Easy, comforting Chicken Noodle Soup with tips for creamy & grain/gluten free versions. Plus, a recipe for delicious homemade chicken broth in the Crock Pot! This soup is pure comfort food and the perfect way to warm up and get cozy during the colder months.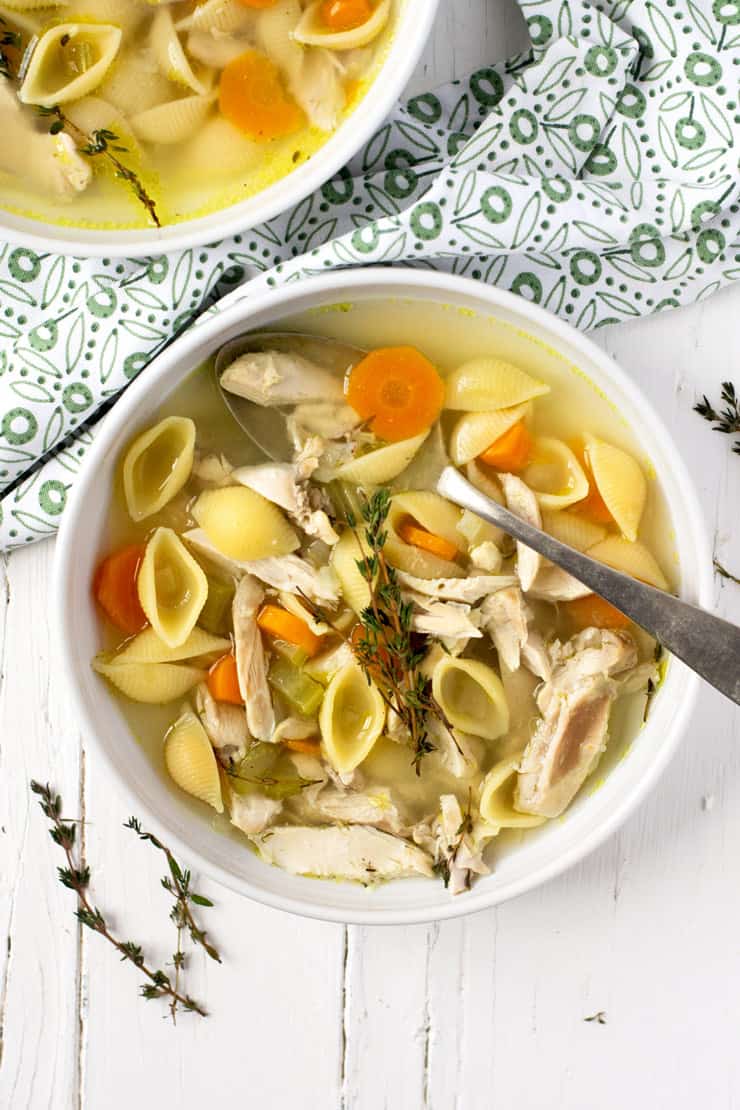 Is it just me or has this year's stomach bug been making more rounds than usual?
Somehow my family hasn't been hit, but it seems like nearly everyone else we know has.
For a while, my Facebook feed was overtaken with it. My friends were all taking turns nursing sick children or needing a nurse themselves. Ugh.
Well, sickness or none, this Classic Chicken Noodle Soup is so comforting and easy to make. It's the stove top version of my Slow Cooker Chicken Noodle Soup. I do love the convenience of the Crock Pot
when I'll be away from the house and can't cook dinner. But, when I'm home, I'm more inclined to cook this one on the stove since it takes under an hour and I think the flavor of is even better.
Note: This post contains affiliate links. By making purchases through these links, you pay the same amount for products, but a portion of the sale will be sent my way to help with blog expenses. Thanks!
How To Make Homemade Chicken Noodle Soup
Once you've had really good homemade chicken noodle soup, there is absolutely no desire to ever buy that little red and white can again. If you have a favorite homemade recipe, you know what I'm talking about. If you don't, make this one and you will!
From-scratch chicken noodle soup, made with real chicken broth (we'll get to that in a minute), has a richness that just can't be found on the grocery shelves. The good news is it's really simple to make.
Literally, place all the ingredients except the pasta into a pot, cover, and let it simmer for a bit. Then remove the cooked chicken and chop on a cutting board. While you're working on that, toss your pasta into the soup pot to cook. Return the chopped chicken, give it all a good stir and serve!
Plus, it's allergy friendly – it's dairy free, soy free, nut free, egg free, and can easily be made grain and gluten free (see substitution notes below).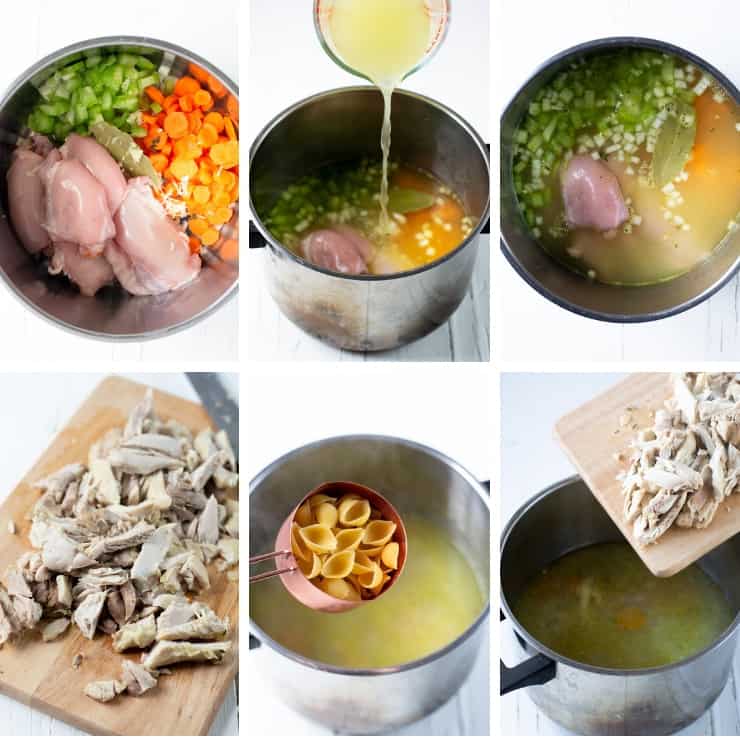 (Easy) Homemade Chicken Broth – The Key to Great Soup
It has been said that a soup is only as good as the broth used to cook it.
I'd have to agree, but…can I confess something?
I had never made my own broth until last year. For some reason, I envisioned a complex process that required all day in the kitchen.
Wrong.
Just like the roasted vegetables thing, making chicken "bone broth" was way easier than I thought. I came across instructions for Slow Cooker Bone Broth about a year ago and couldn't get over how simple it was!
I hate even calling it a recipe because you literally put reserved chicken bones with a few other kitchen scraps and pantry staples a crock pot, let it do all the work, then strain it. Easy peasy.
Did you catch that?
Homemade broth is effortless and nearly FREE, not to mention the nutritional benefits from the high concentration of minerals and amino acids. Read more about why bone broth is healthy, and how it differs from "stock" here.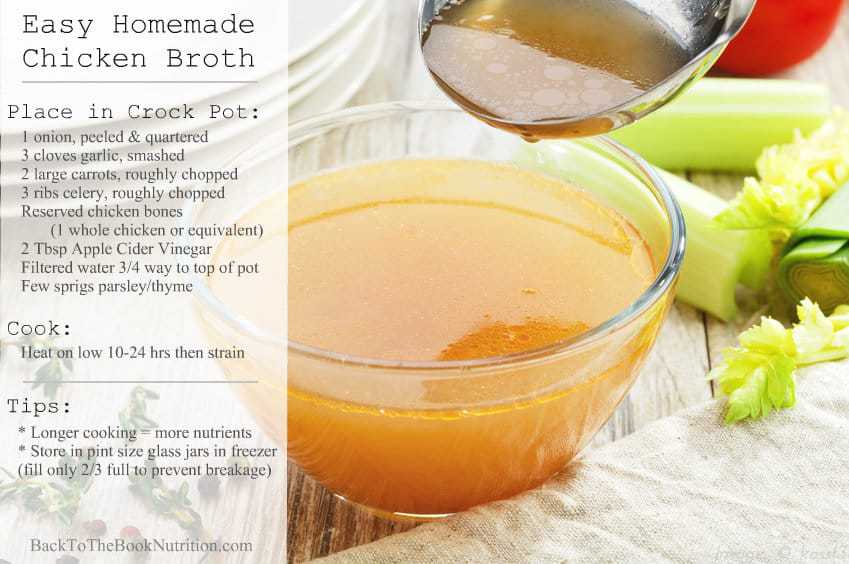 Kitchen Tips: Chicken Noodle Soup & Homemade Chicken Broth
Chicken Noodle Soup Tips
For Grain and Gluten Free Chicken Noodle Soup – Follow instructions, but substitute finely chopped potatoes (red, gold, or white) for the pasta, or try my gluten free 20 Minute Rotisserie Chicken and Rice Soup.
For Creamy Chicken Noodle Soup – Add a few splashes of heavy cream at the very end of cooking.
To Freeze – Follow instructions, but do not add pasta. Ladle soup into freezer safe containers. When ready to use, defrost and reheat soup. Cook pasta separately and stir in just before serving. I'd recommend also following this method for adding the potatoes if you're freezing the grain and gluten free version.
Homemade Chicken Broth Tips
Bones & Other Ingredients – If I don't have bones on hand from having just

roasted a chicken

, I use bones that I've gathered over time and stored in a gallon size Ziploc bag in the freezer. This "recipe" is very loose – as long as you have the bones, the other ingredients can be adapted based on your taste preferences or what produce you have sitting in your fridge at the time.
Cooking – Bone broth can be made in as little as 10 hours or as much as 24 hours (The longer the time, the richer the flavor and nutrients). Some people cook it overnight while they're sleeping, but I prefer to start mine early in the morning and cook until late at night so I'm not waking up to the smell of chicken broth. It's a wonderfully rich, comfort food-type aroma, but not one I want to smell in the wee hours of the morning.
Storing and Freezing – Once the broth has cooled slightly, I use a ladle or large funnel to transfer it to quart size glass storage jars, filling each only about half full since 2 cups is the most common amount of broth called for in recipes, and since the glass will break when the broth expands during freezing (spoken from experience).
If I know I'm making a batch of this soup, which calls for just about the same amount that a single batch of broth yields, I'll just transfer it to a single, half gallon glass storage jar in the fridge until I'm ready to use it.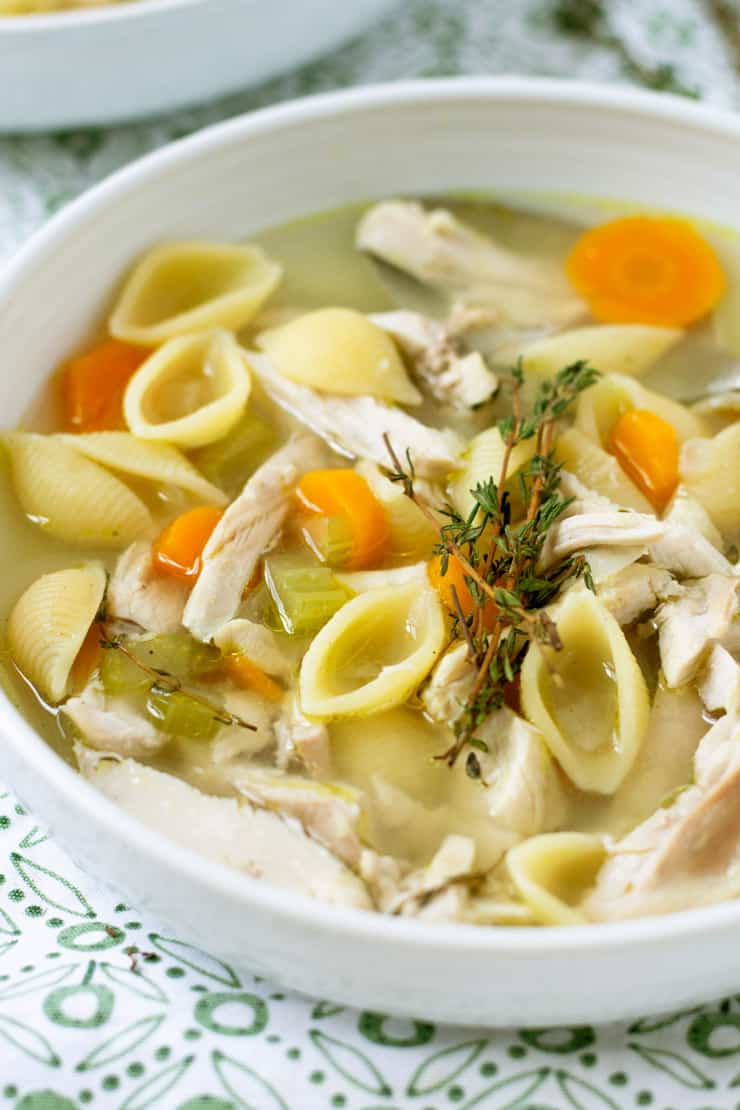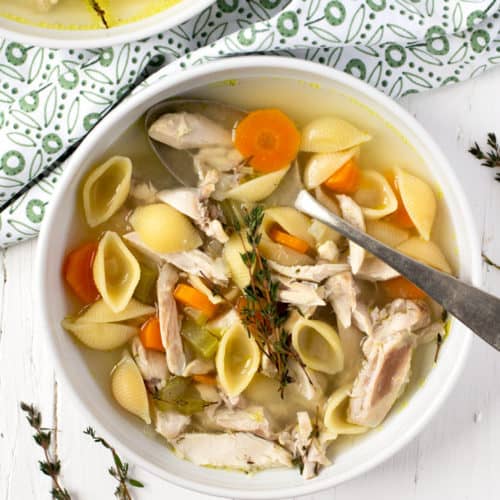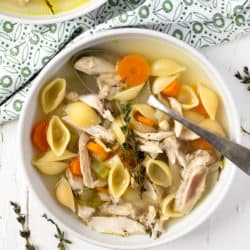 Classic Chicken Noodle Soup
Old fashioned chicken noodle soup with simple steps for making it creamy or grain/gluten free.
Print
Pin
Rate
Ingredients
6-8

cups

homemade chicken broth

3

cups

water

1

medium onion

chopped (approx 1 cup)

2

large cloves garlic

minced or pressed

1

cup

sliced carrot

1

cup

sliced celery

1

bay leaf

1/2

tsp

dried thyme

1

Tbsp

sea salt

1/2

Tbsp

ground black pepper

1

small roasting chicken or 2.5-3 pounds chicken

we like the taste of dark meat in this soup, so I sometimes use thighs only, which also cook quickly. Try to get them with the skin on - it will add a lot more flavor!

2

cups

dry orecciete or other small pasta

I've tried whole wheat before and it significantly alters the flavor of the soup, so this is one of the few recipes where I buy high quality "white" grains

Fresh thyme for garnish

optional
Instructions
Place all ingredients except pasta in a large stock pot.

Heat over medium high heat until liquid begins to bubble. Cover, turn heat down, and simmer for about 30 minutes, or until a thermometer reads 165 degrees when inserted into the largest portion of chicken meat.

Remove bay leaf and transfer chicken to cutting board.

While chopping the chicken, Add the pasta (or potatoes for grain free) to the stock pot. Cook uncovered until pasta is done, about 10-15 minutes.

Add chopped chicken and turn heat off.

Add additional salt and pepper to taste.

Garnish with fresh thyme (optional) and serve.
Notes
For creamy version: Add a few splashes of cream at the end of cooking.
For grain and gluten free version: Replace the pasta with an equal amount of chopped red, white, or gold potatoes. Cook as instructed above.
Check out these other favorite soup recipes!