This healthy homemade hot chocolate mix is so rich and creamy and only takes 5 minutes to stir together! Just add warm milk (or dairy free milk of choice). Great DIY Christmas gift for teachers, neighbors, or friends!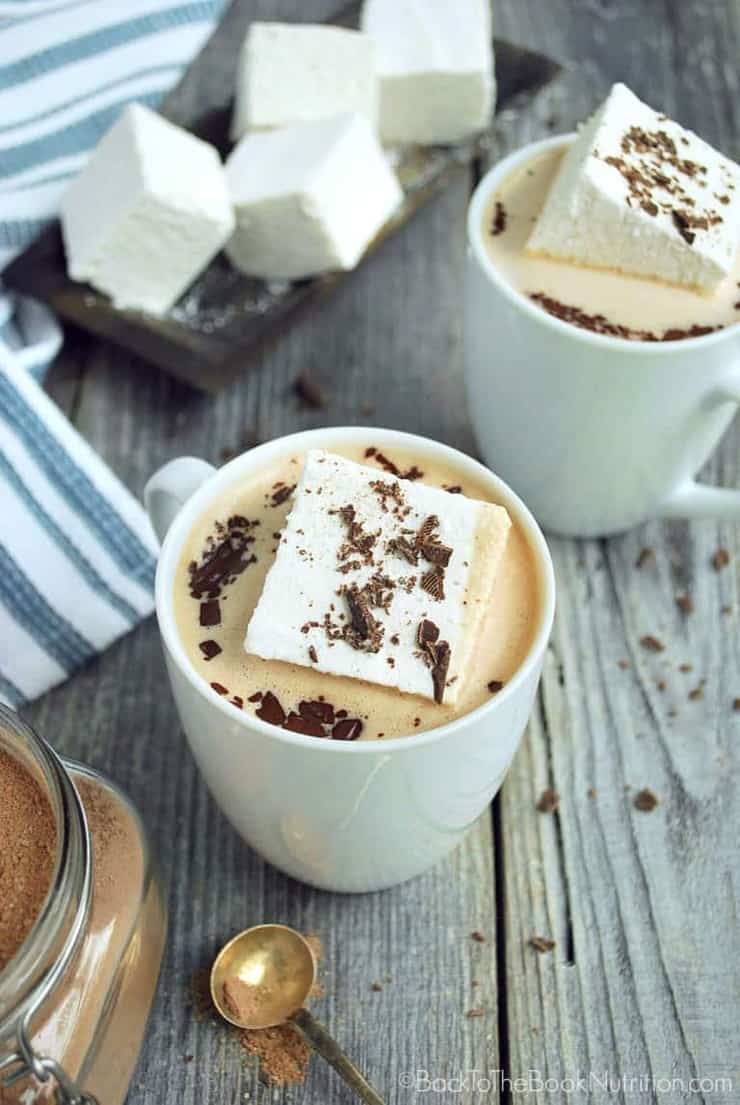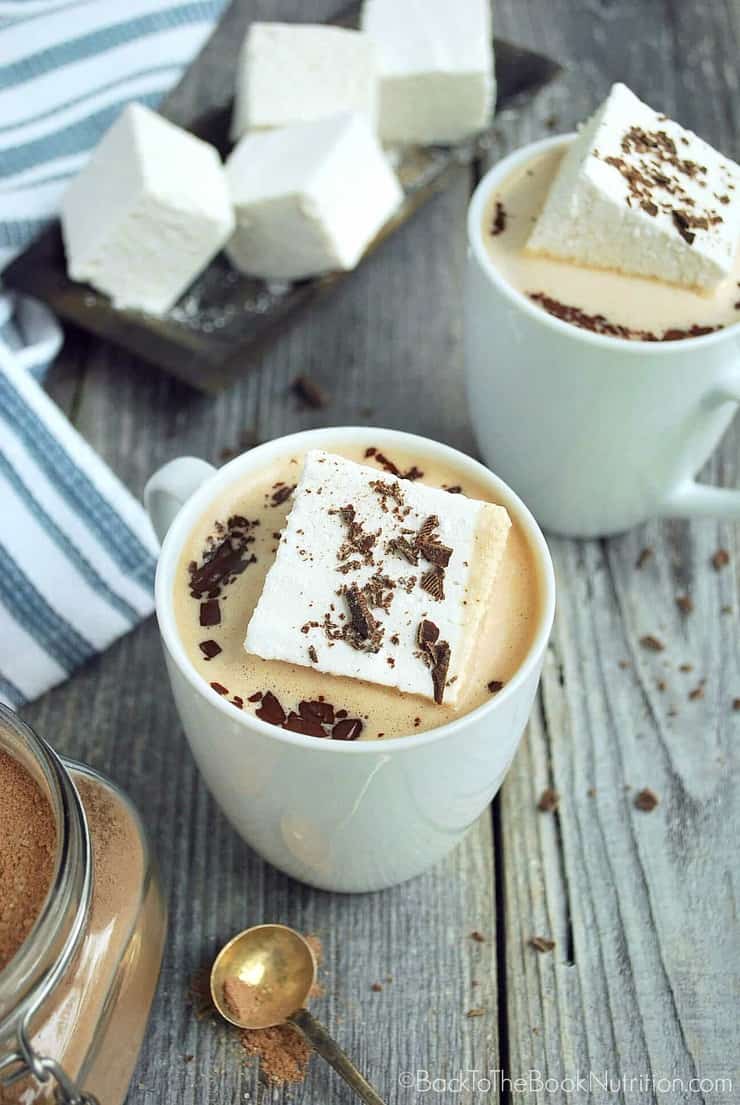 Hands up if you want a mug of rich and creamy hot chocolate that's super easy to make and is good for you too!
Healthy, Homemade Hot Chocolate Mix
This delicious, dairy free hot cocoa mix only takes a few minutes to stir together and has just 5 simple ingredients. And two of them – cacao and gelatin – are superfoods, loaded with antioxidants and great for skin, bone, joint, and gut health!
Note: This post contains affiliate links. By making purchases through these links, you pay the same amount for products, but a small portion of the sale will be sent my way to help with blog expenses. Thanks!
Raw cacao has become a staple in my pantry – I use it in everything from this decadent chocolate protein shake, to these double chocolate chunk walnut cookies, to my DIY body butter. I love that it's unprocessed and never heated, keeping all it's powerful antioxidants intact. It's also a good source of fiber and magnesium, which most of us could use more of.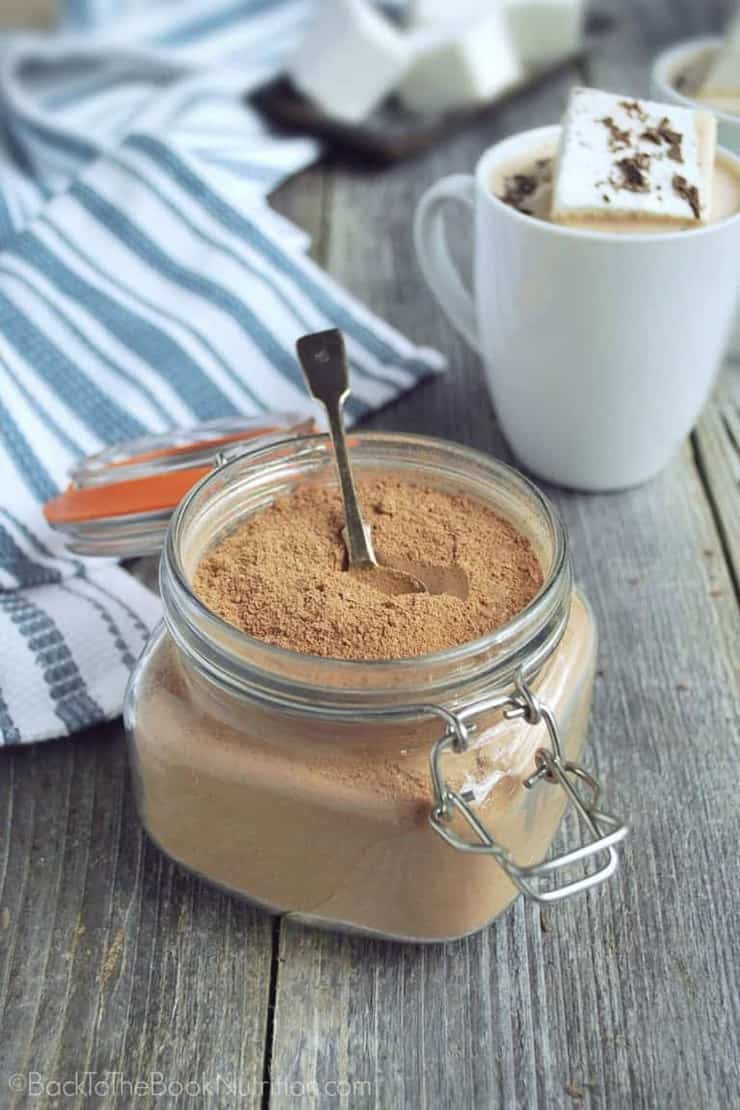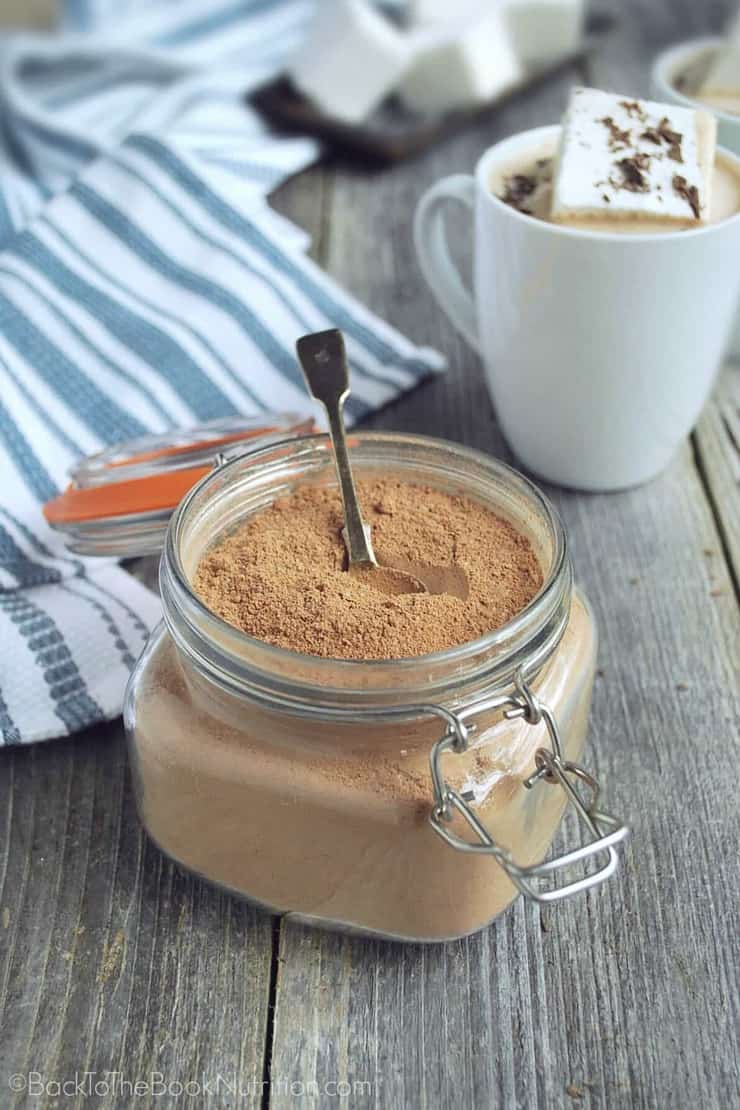 The other star of this healthy hot chocolate recipe is gelatin. Technically, it's collagen hydroslysate, a cold-soluble form of gelatin made by Great Lakes Gelatin.
If you follow me on Instagram or Facebook, you already know that I recently discovered this little gem and can't get over how great it is! Finally, all the benefits of gelatin/collagen without having to heat it, or have jello-like clumps floating around in my drink! And it's non-GMO and made from cows raised on pasture. 
I bought my first canister just a few weeks ago and have already had to order more! I've stirred it into coffee, yogurt, oatmeal, and even into our homemade elderberry syrup to help us fight off cold and flu! I love that we can finally get in a daily dose of gelatin for skin, bone, joint, and gut health with zero effort and without even noticing it's there! It's a thousand times easier than making bone broth and convincing the kids to drink it each day!
Just to reiterate – this cold-soluble gelatin (aka: collagen hydrolysate) will *not* gel. If you're making homemade jello, the homemade marshmallows pictured, or something else that needs to gel, you'll want to order the regular version of Great Lakes beef gelatin.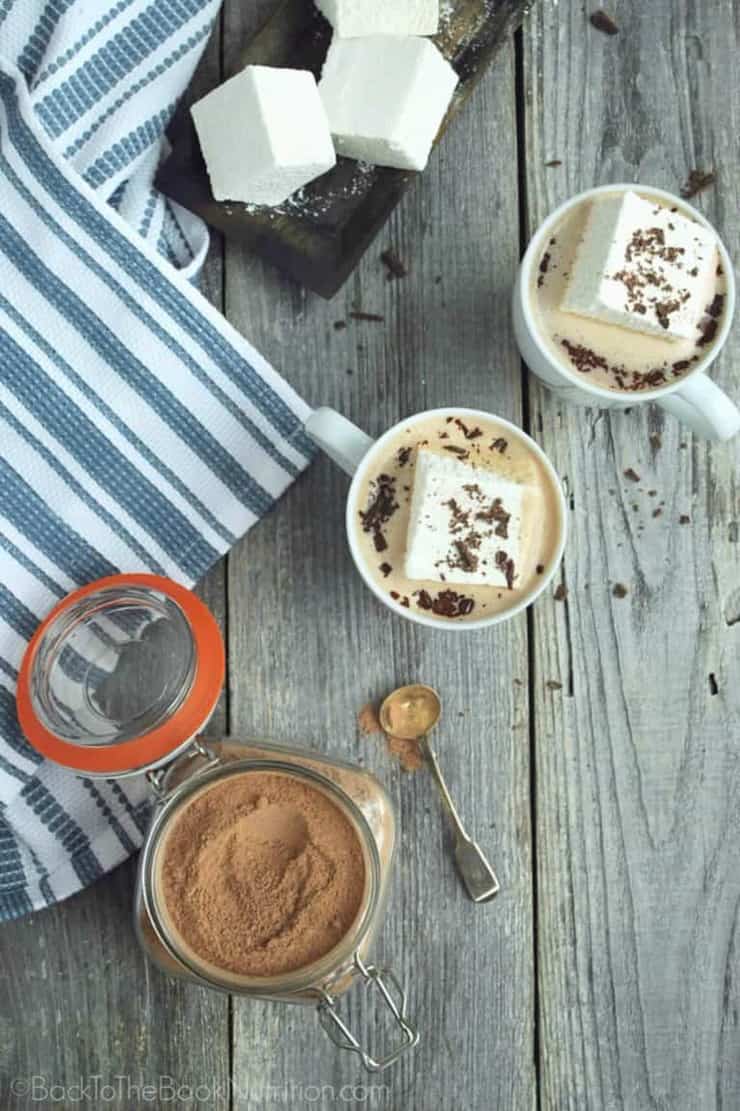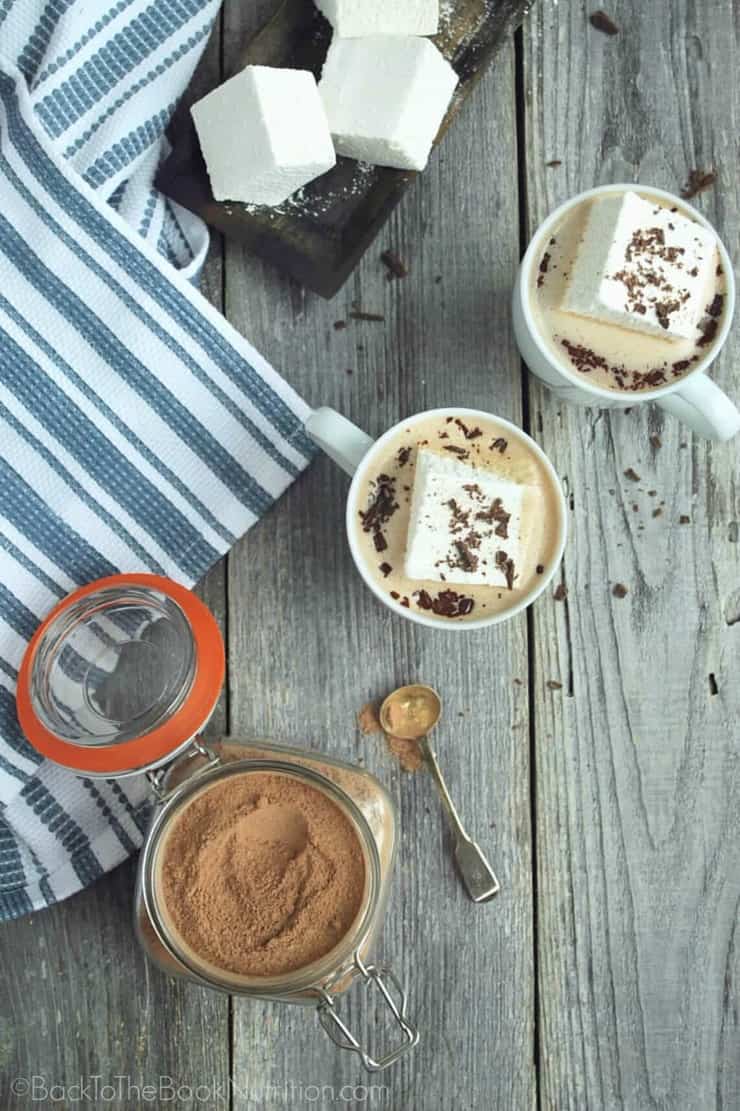 Hot Cocoa Mix – an easy, DIY Christmas Gift!
We're passing little jars of this mix out as Christmas gifts to teachers, neighbors, and friends this year. With all the allergies out there, it's nice to give a homemade gift that is free of dairy, gluten, egg, soy, and other major allergens so everyone can enjoy it!
I even created a cute little printable label you can tie to the jar!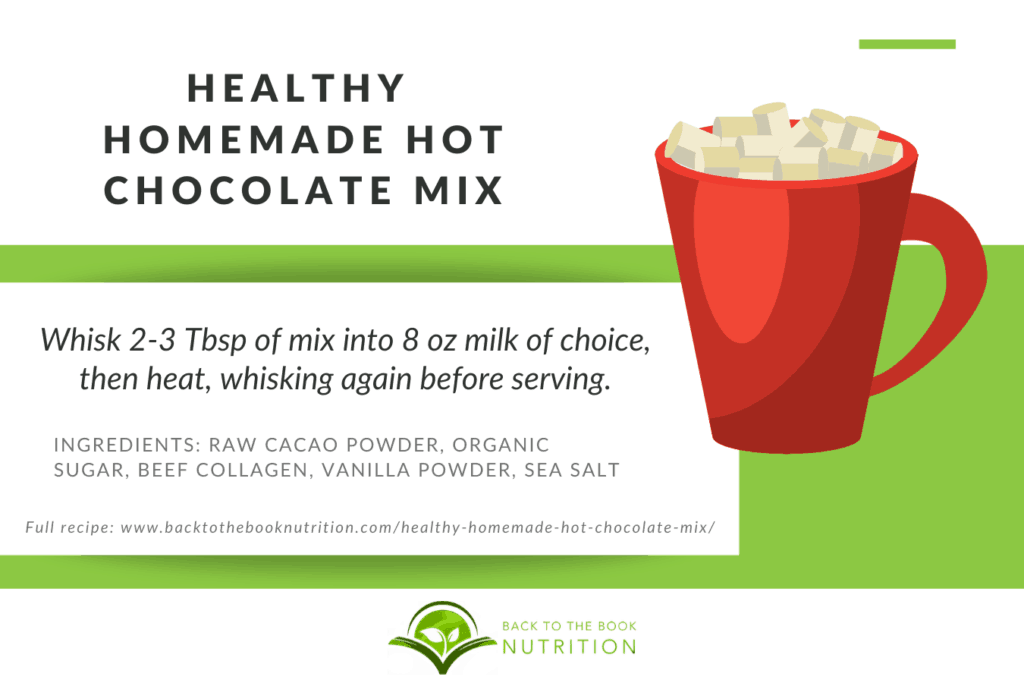 But, beyond all the health talk, I also love that this recipe is crazy easy! No chopping, blending, or pre-heating. Just measure and stir the dry ingredients, and you're ready to roll.
We whisk this hot chocolate mix into raw milk from our local dairy. But, it can easily be added to coconut milk, almond milk, or whatever other dairy free milk substitute you like.
The key to a perfectly smooth mug of hot chocolate is whisking, not just stirring, the mix. I usually heat my milk in a large measuring cup with a spout so I have plenty of room to whisk the mix without it sloshing over the sides. Once it's all mixed, I pour it into the mugs to serve.
And I'll tell you a little secret – it makes a fabulous chocolate milk if you refrigerate it! 😉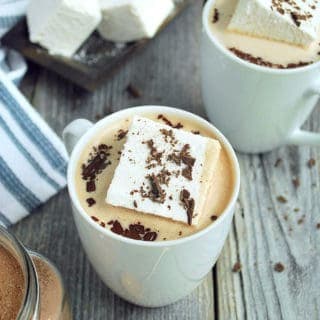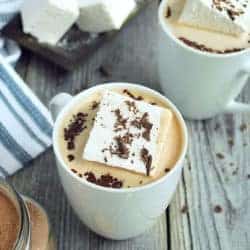 Healthy Homemade Hot Chocolate Mix (Dairy free)
This healthy homemade hot chocolate mix is so rich and creamy and only takes 5 minutes to stir together!
Print
Pin
Rate
Instructions
Mix all ingredients and store.

To prepare, add 2-3 Tbsp dry mix to 8 oz of milk of choice (use coconut or almond milk for dairy free), whisking vigorously (you'll still have some clumps on top). I like 3 Tbsp for a darker chocolate flavor, but you can also start with 2 and add more at the end to suit your taste.

Heat mixture in the microwave or on the stovetop until steaming. Remove and whisk again until smooth.

Add any desired toppings and serve!

Makes approximately 3 cups of dry mix, enough for 16, 8-oz servings of hot chocolate.
Notes
For dairy free, be sure to use almond, coconut, or other dairy free milk when you prepare it!
To make multiple servings at once, I find it easiest to prepare it in either a large measuring cup (if heating in the microwave), or a medium saucepan (if heating on the stove), then pour it into mugs to serve.
For an added immune boost, I add 2 grams of colostrum powder just before serving!
This mixture is a great for holiday gifting, especially if you add a few of those giant homemade marshmallows!
Check out These Other Cozy Recipes!