Chocolate chunks, pecans, and coconut make this healthy breakfast oatmeal bars recipe taste more like dessert! They're gluten free, dairy free and soy free so they can be enjoyed by everyone and they're super healthy. There's also a nut free option too!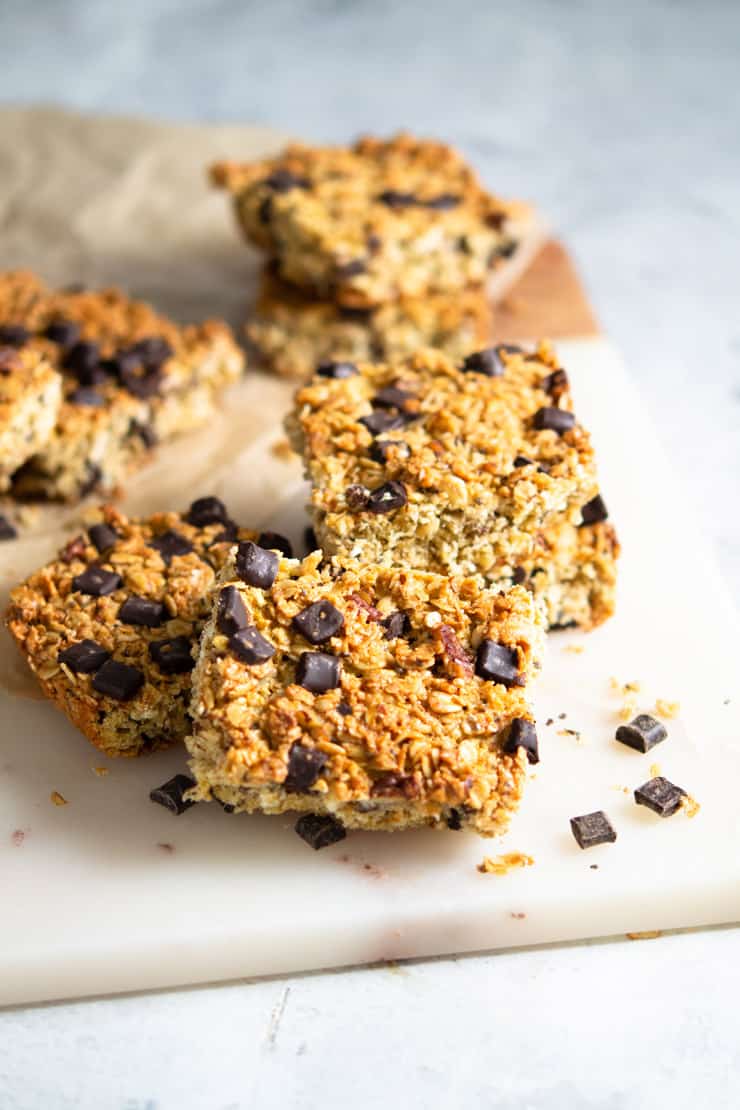 These new chocolate chunk oatmeal bars with coconut and pecans made last weekend a little sweeter for us, and I know you'll love them too!
Healthy Chocolate Chunk Oatmeal Bars
Don't you love recipes that are healthy enough to eat for breakfast, but sweet enough to serve as dessert, too? I sure do.
And these snack bars are definitely one of those recipes – they're whole grain, high fiber, gluten free, dairy free, and made with coconut oil.
But they're still sweet enough to taste like dessert – it's really amazing how some maple syrup and a few tablespoons of chocolate chunks can make an oatmeal square taste more like a cookie bar!
But they can, and it's amazing.
Note: This post contains affiliate links. By making purchases through these links, you pay the same amount for products, but a portion of the sale will be sent my way to help with blog expenses. Thanks!
How To Make Chocolate Chunk Oatmeal Bars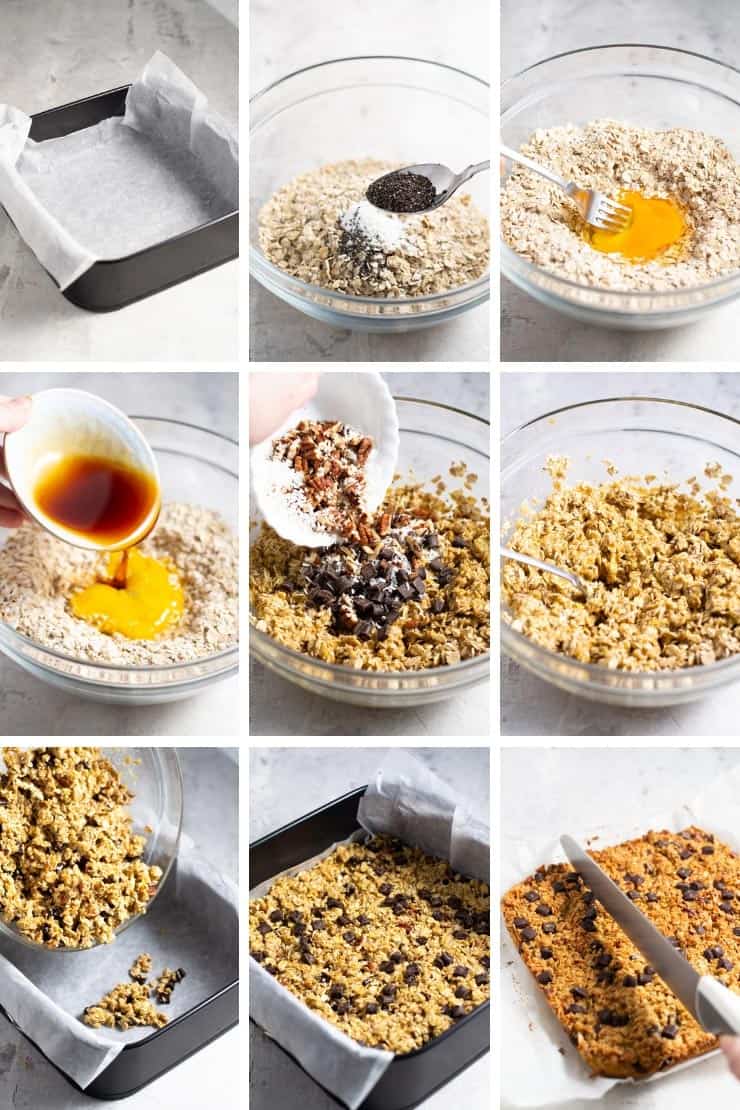 These Oatmeal Bars are Gluten Free & Dairy Free
None of my family members are gluten free or dairy free, but we have plenty of friends who are. It's nice to be able to share these freely without worrying about allergens.
For those who are nut free, the pecans can be omitted or replaced with an additional 2-4 Tbsp chia seeds. The chia seeds add fiber and ALA (which the body converts to omega-3 fats), similar to the pecans.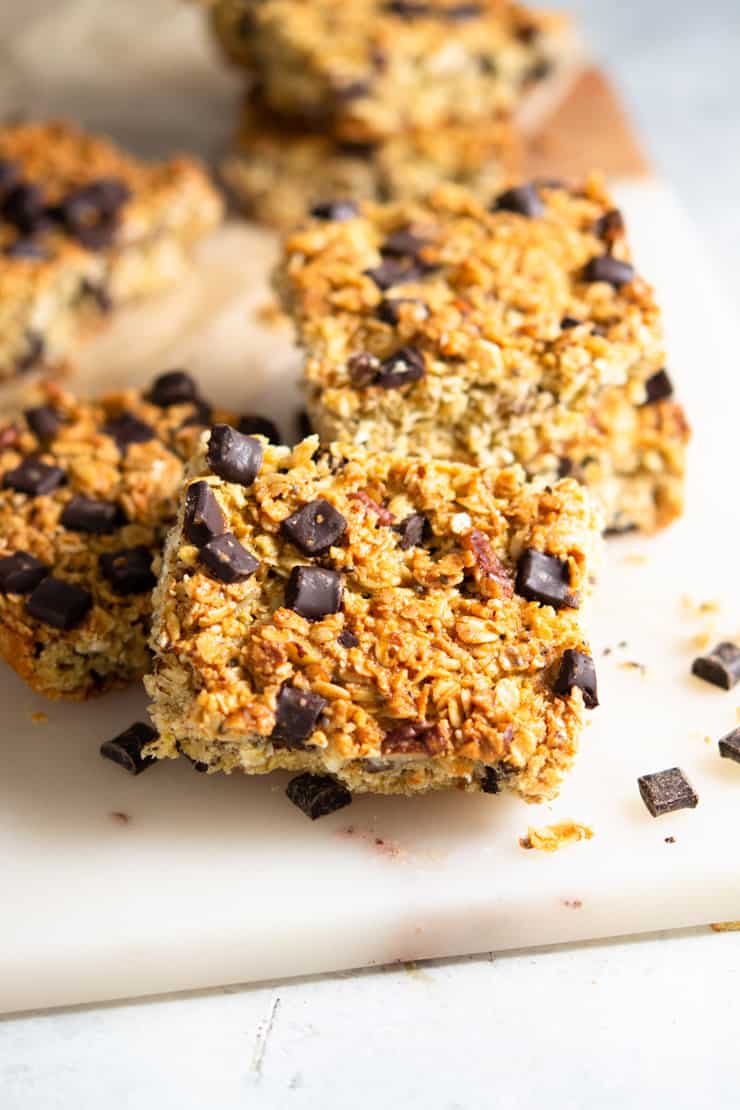 Tips For Making The Best Oatmeal Bars
To make these bars nut free swap the pecans for chia seeds or dried fruit
Allow the oatmeal bars to cool before cutting or they might fall apart
Wrap these bars in plastic wrap and store in a suitable container. They can be frozen or will keep well in a cool dry place for up to 1 week.
If you don't have maple syrup you can use honey
If the coconut oil isn't in liquid form make sure to melt it before measuring
Chocolate chunks can be swapped for any chocolate chips or dried fruit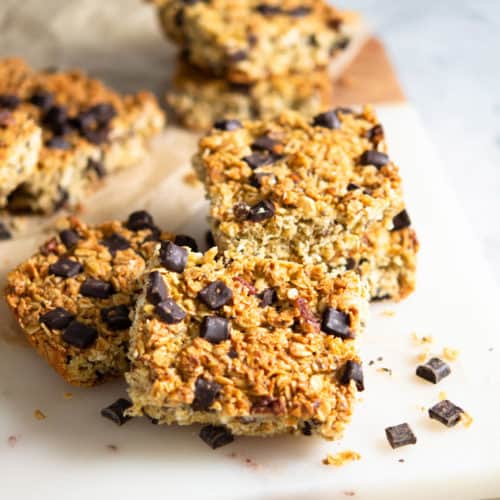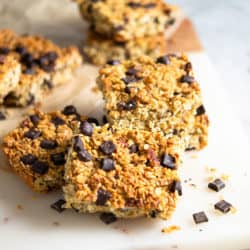 Oatmeal Chocolate Chunk Snack Bars (gluten free, dairy free)
These new oatmeal chocolate chunk snack bars with coconut and pecans made last weekend a little sweeter for us, and I know you'll love them too!
Print
Pin
Rate
Instructions
Preheat oven to 375 degrees.

Cut an 9x14" piece of parchment paper and place into an 8" square pan (the two longer ends will serve as "handles" to easily pull the baked bars out of the pan. Set aside.

In a large mixing bowl, stir together the first four ingredients (oats through chia).

Make a well in the center of the bowl and add the two eggs, whisking gently without stirring in too much of the oat mixture.

Add the remaining wet ingredients to the eggs, then mix the wet and dry together.

Stir in the shredded coconut, pecans, and 4 Tbsp of the chocolate chunks.

Pour the batter into the parchment lined pan, then sprinkle the remaining 2 Tbsp chocolate chunks on top, pressing them in gently.

Bake for 25 minutes, or until surface is firm, slightly golden, and a toothpick inserted into the center comes out clean.

Cool completely before slicing.

(Makes 9 large squares or 16 small ones)
Notes
To make these bars nut free swap the pecans for chia seeds or dried fruit
Allow the oatmeal bars to cool before cutting or they might fall apart
Wrap these bars in plastic wrap and store in a suitable container. They can be frozen or will keep well in a cool dry place for up to 1 week.
If you don't have maple syrup you can use honey
If the coconut oil isn't in liquid form make sure to melt it before measuring
Chocolate chunks can be swapped for any chocolate chips or dried fruit