I'm sharing some of my top tips to help you fight cold and flu naturally, including foods, supplements, essential oils, and other products to help boost your immune system and stay healthy this winter!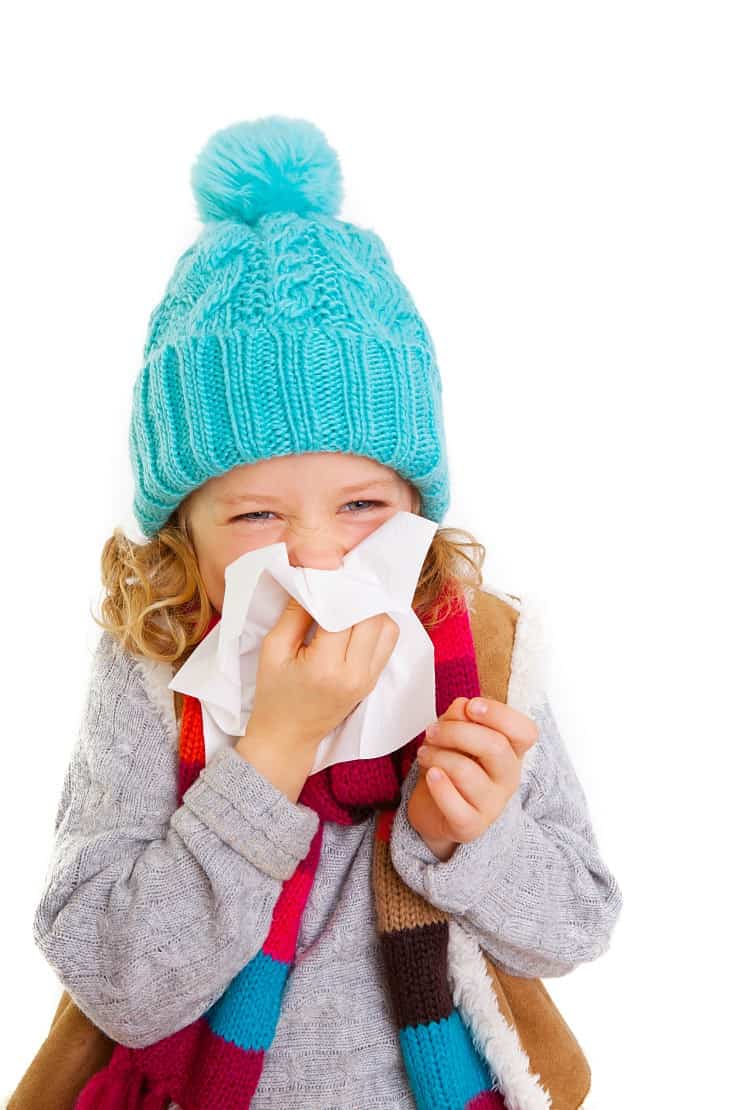 Cold and flu season is upon us again.
Today I'm passing along my top tips to help you fight cold and flu naturally, including foods, supplements, essential oils, and other products to help boost your immune system.
14 Ways to Fight Cold and Flu Naturally
1. Elderberry Syrup
Elderberry syrup is loaded with immune boosting antioxidants and has been shown in human studies to shorten the duration of colds and flu by a few days, and to lessen their severity. We start taking it at the first sign of symptoms and continue until a few days after symptoms subside.
Grab my easy, 15 minute elderberry syrup recipe here!
2. Cut out sugar
We know that sugar increases inflammation and a host of other problems that can detract from immune function. A preliminary study conducted by Loma Linda University in the 1970's showed suppressed immune activity for several hours after ingestion of 100 grams of sugar, compared to increased immune activity with fasting.
More study is needed to confirm these findings but, since sugary foods aren't usually contributing much nutritional benefit, I'm all for withholding them while we're trying to support immune function as best we can!
Note: This post contains affiliate links. By making purchases through these links, you pay the same amount for products, but a small portion of the sale will be sent my way to help support the mission of Back To The Book Nutrition. Thank you!
3. Nasal Irrigation
For Adults:
The Neilmed Sinus Rinse has been one of the best $10 I ever spent! It's like a Neti Pot on steroids, using gentle pressure to flush out the sinuses with salt water. They only provide a few saline packets with the kit, so we just use iodized salt once those run out (sea salt tends to burn a little – I'm assuming due to the other minerals present). Just go easy if your ears are clogged since the added pressure can cause ear pain.
I also use this saline spray with antimicrobial grapefruit seed extract (GSE) to into the nasal cavity a few times day.
For Kids:
I'd also urge caution using the Neilmed with young children due to the pressure, but the Nose Frida (aka: Snot Sucker) is a fantastic alternative and can even be used on newborns! I'm certain it saved our kids from countless infections before they were able to blow their own noses!
In addition to the Nose Frida, we often use this saline spray to loosen the gunk, decrease tissue swelling, and add a little antimicrobial salt into the nasal passages.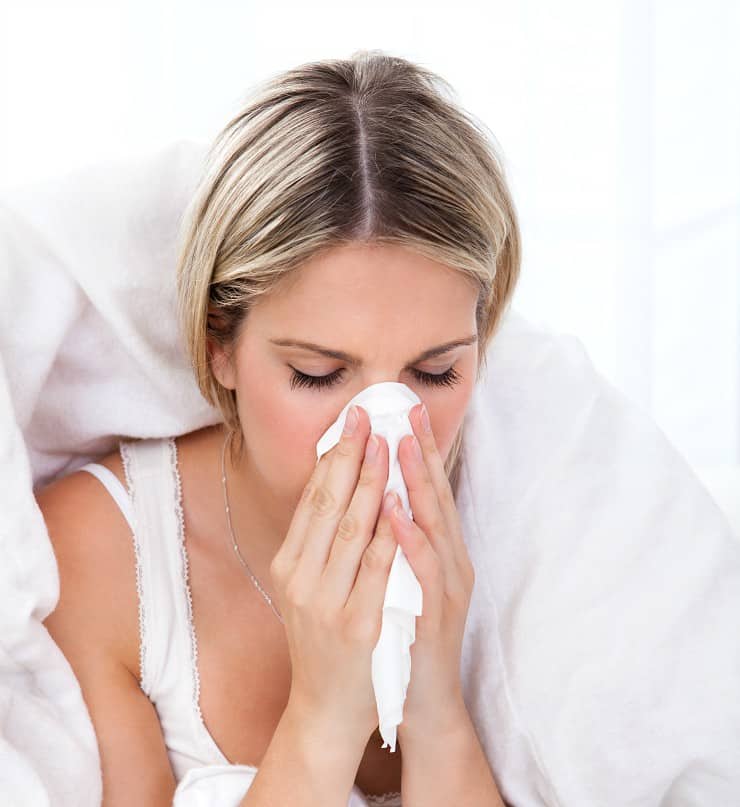 4. Colostrum
This one isn't at the top of the list of immune boosting supplements we usually hear about, but it should be! A 2007 study of 144 individuals showed that taking 400 mg of colostrum daily for two months was three times more effective than the flu shot at preventing flu like episodes! I only recently learned about this study but you better believe my entire family of four will be taking some colostrum for the next couple of months! 🙂
Buy Tegricel Colostrum from Designs for Health here.
5. Vitamin C
This is probably the most well known nutrient for fighting cold and flu naturally. Studies show that 200 mg/day of vitamin C may decrease the duration of colds by about a day. Higher doses of 6,000-8,000 mg/day seem to decrease the duration by up to a few days. Vitamin C is a very inexpensive supplement to add into your immune boosting routine. This is a great summary of the vitamin C literature to date.
At our house, I add about 1,000 mg of Perque Potent C Guard powder into each "dose" of elderberry syrup the kids take throughout the day. My husband and I just take it in 1,000 mg capsules throughout the day.
Buy Perque Potent C powder or capsules here.
Be aware that higher doses of vitamin C will almost certainly cause loose stools so be sure to drink plenty of liquids to replace losses.
6. Vitamin D
Some studies have suggested that vitamin D supplementation could help the body fight certain strains of flu and protect against respiratory tract infections commonly associated with cold and flu, especially among those who were vitamin D deficient (blood levels below 25 nmol/L). More study is needed to confirm this and clarify optimal dosage.
We take vitamin D supplements daily (I like Vitamin D Complex from Designs for Health) along with vitamin K2 (I like K-Right from Jarrow Formulas), which is a very important "helper" to vitamin D as well as calcium.
Buy Vitamin D Complex and K-Right here.
The kids get vitamin D in their cod liver oil, but this liquid D+K2 supplement from Thorne is a good product for kids since the drops can just be added to a beverage.
7. Probiotics
While probiotics have only been shown to be marginally beneficial for preventing colds, we know that they enhance immune activity. A recent meta-analysis (a summary of studies) showed that both traditional probiotics and prebiotics significantly increased effectiveness of the flu vaccine by stimulating the immune system to produce flu antibodies more quickly. Another study i mice found that Bacillus subtilis – a spore forming probiotic strain – had anti-flu activity comparable to Tamiflu. It will be exciting to see how the research develops in this area!
We're pretty faithful to get these into our daily routine year round via probiotic rich foods like fermented vegetables, and probiotic supplements. But, if cold symptoms arise, I double up on our doses.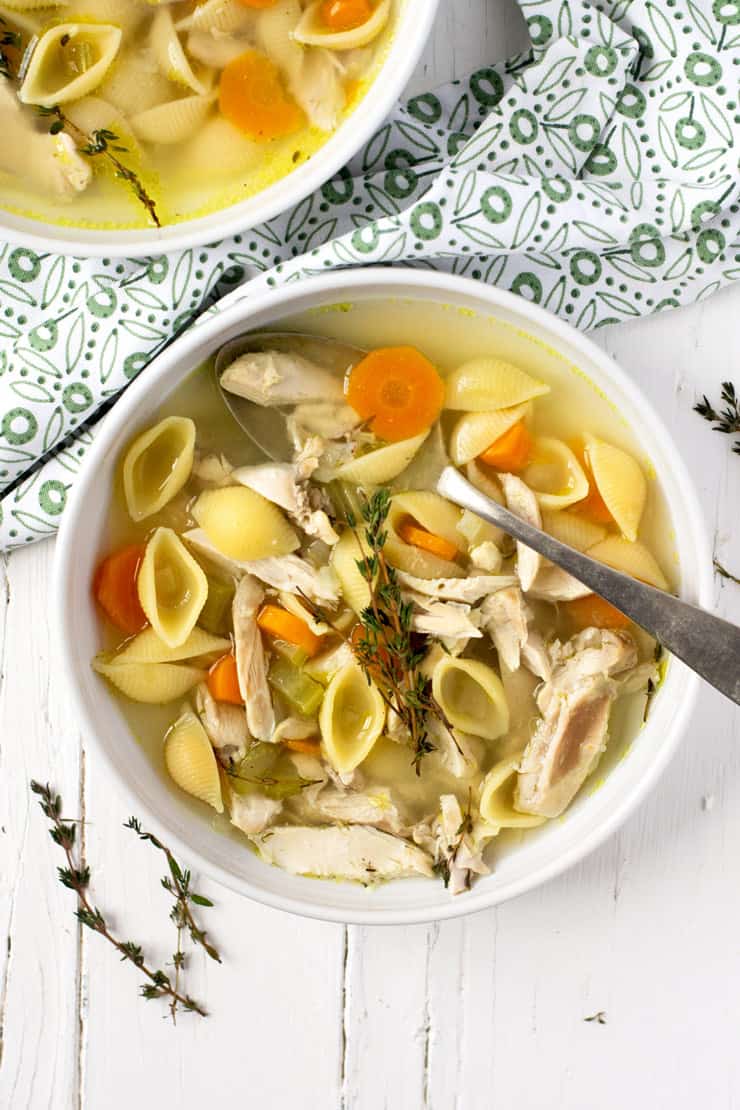 Pictured: Homemade Chicken Noodle Soup with Easy Homemade Broth
8. Boost Nutrition
Obviously, a dietitian is going to say eat healthy, right? 😉 I try to make our nutrition count when we're sick – I aim for simple, nourishing meals like homemade chicken soup (did you know it has actually been shown to have medicinal benefits?).
Of course, there are those times where someone doesn't feel like eating and I believe it's best to respect that and let the body focus on healing rather than digestion. Hydration is the only thing I push for throughout any illness. Our bodies can go a lot longer without food than without fluids so, even if you don't feel like eating much, be sure you're sipping on fluids throughout the day.
9. Essential Oils
I don't claim to be an essential oil expert and my experiences with them have admittedly been very hit or miss. But here are a few ways we've used them when fighting off cold and flu:
Diffusing: Eucalyptus*, Tea Tree, Lemongrass, Lavender, Oregano, Clove
Chest Rub for Congestion: Peppermint*, Eucalyptus* (dilute 2 drops of each in carrier oil)
Drops to soothe ear pain and fight ear infection: Mullein Garlic, Basil (I use a dropper to place 1-3 drops inside the ear – this is controversial but, after researching it and discussing with our pediatrician, I feel confident that there's very little risk unless the ear drum has ruptured)
* May not be safe for children under 6 years old
10. Wash Hands
The CDC recommends scrubbing with soap and water for 20 seconds (singing through Row, Row, Row Your Boat twice should be about the right amount of time). Nontoxic hand sanitizers are a good alternative when soap and water are unavailable.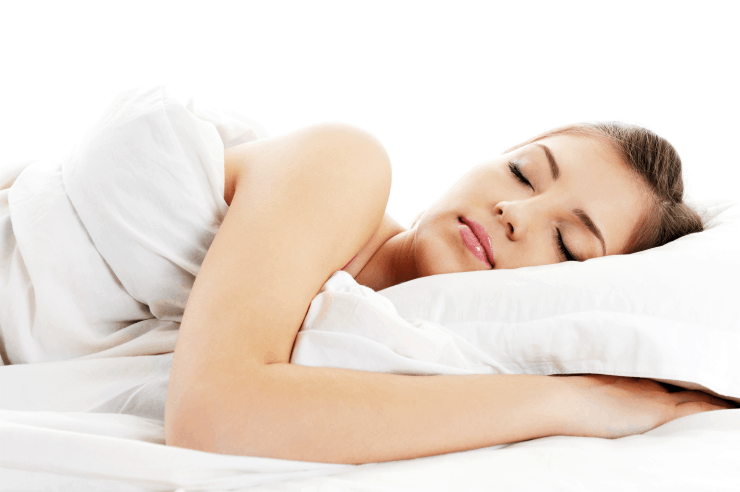 11. Sleep
Adequate sleep reduces your risk for getting sick. Sleep is also important if you have an illness since much of the body's self-healing activity takes place during sleep.
12. Be Patient with Fevers
In our home, we embrace fever up to 103-104 degrees as one of the body's ways of fighting off an illness. Significant sleep disruption is just about the only time I give medication solely to bring down a fever less than 104.
A little extra holding and lots of extra fluids can help a child ride out a fever up to 103-104 for a day or two. Accompanying symptoms that would alert me to call the doctor sooner include lethargy, dehydration, confusion, vomiting/diarrhea, difficulty breathing, or pain.
Clearly, extra caution should be taken with babies, younger children, or those with underlying illnesses or compromised immune function, since even a lower grade fever may be of concern in these individuals.
Remember, this is simply what has worked for my family. It's not medical advice. You must do what you determine your own family member needs in each situation. When in doubt, call the doctor!
13. Consider Homeopathic Remedies?
For now, I put homeopathic remedies in the "might help, won't hurt" category. I don't routinely use them but, if someone gets hit hard with the flu I'll buy some in an effort to throw everything at them I can.
Dr. Elisa Song, MD recommends one or more of the following homeopathic remedies for cold and flu and notes that homeopathy is most effective when begun at the first sign of symptoms (Learn more about sources and Dr. Song's recommended doses here):
Windbreaker – for cold, flu, fever, or allergies
Esberitox – for cold and flu
Pelargonium Sidoides (sold as Umcka Syrup by Nature's Way) – cold, bronchitis, sinusitis, and throat infections
Oscillococcinum – for flu
SyImmune or SyInfect – for acute infection or fever
14. Consider Chiropractic Adjustment?
I've seen great benefit from chiropractic care for my neck and back issues, but I haven't had any personal experience using it to help fight off a cold or the flu. That said, I know many people who swear by it and the next time I'm coming down with something, I just might try it! This article summarizes some of the ways chiropractic care can help strengthen the immune system and help relieve drainage.