Cultured and fermented foods are rich in probiotics, which are essential to gut health and proper immune function. Of all the fermented foods I've made, these easy probiotic fermented carrots are one of the fastest and best tasting, plus they're 75% cheaper than store bought!
Benefits of Probiotic Rich Lacto-Fermented Foods
Most of us know that we should be eating probiotic rich foods daily.
Research on gut health has exploded in recent years, linking probiotics to health benefits in more chronic conditions than ever before – depression, anxiety, eczema, food allergies, autism spectrum disorders, and obesity, not to mention the whole array of GI disturbances like chronic constipation, bloating, and diarrhea, just to name a few.
I've eaten yogurt and taken high potency probiotic supplements for years, and I still do rely on them and recommend them to provide a consistent daily dose of beneficial bacteria.
But last year my family and I began adding new-to-us cultured and lacto-fermented foods into our diets for an added boost of probiotics and the fibers that feed them. Foods like kefir, kombucha, traditionally prepared sourdough, and lacto-fermented vegetables are now staples in our home, and we're loving it! The kids especially love grabbing these fermented carrots for a quick snack!
Cheap and Easy Probiotic Fermented Carrots
The only problem with truly lacto-fermented foods is that they're really hard to find at most grocery stores and, when  you can find them (check the refrigerated section!), they're crazy expensive…like between $7 and $10 per jar! 
Fortunately, making them at home is super easy and is around 75% cheaper than store bought!
This recipe costs $2 or less, only takes 15-20 minutes to prep, and they ferment faster than other veggies, which I'm assuming is due to their natural sugar content that speeds the lacto-fermentation process. Plus, it's so much fun to watch them ferment – check out this video of the carrots bubbling!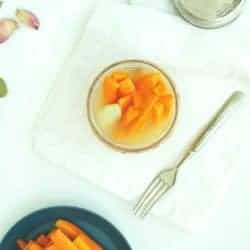 Easy Probiotic Fermented Carrots
These easy probiotic fermented carrots are one of the fastest and best tasting, plus they're 75% cheaper than store bought!
Keyword:
carrots, fermented, probiotic
Ingredients
1 1/2

pound

carrots

peeled and sliced (length should be about 3/4 the height of a pint size mason jar)

2

cups

water

1 1/2

tsp

sea salt

2

large cloves garlic

peeled and partially smashed (I lay it on the cutting board and give it one good whack with the back of the knife so the clove is still intact but the inside is partially exposed)

2

bay leaves

these are said to help fermented veggies maintain some of their crisp

other optional ingredients: dill

ginger, or other fresh herbs/spices
Instructions
Heat the water and sea salt in a small sauce pan, stirring occasionally, until salt dissolves.

Meanwhile, divide peeled and sliced carrots evenly between the two Mason jars - pack them tightly so they can't easily move around.

Place bay leaf, garlic (and any other seasonings) into the jars.

Pour salt water into each jar to cover the tops of the carrots, but leaving at least 1/2" of space between the water surface and the top of the jar. (Discard any additional salt water)

Place the lids on the jars and store in a warm area of the kitchen for 3-7 days, "burping" (opening the lid to allow gas to escape) daily.

We like the flavor after just 3-5 days, but you can adjust the time to your liking.

Store fermented carrots in the fridge (no need to burp once fermentation is complete).

Makes: 2 pints
Do you eat fermented foods? Which are your favorites?