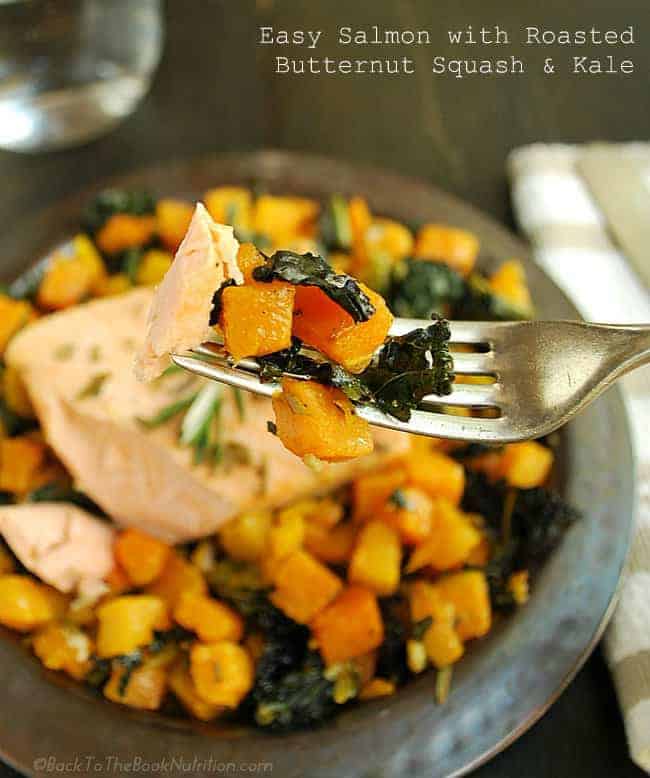 Well, hello there! I hope your long Thanksgiving weekend was as restful and enjoyable as mine was!
Today I'm back in the saddle with a wonderful, healthy dinner recipe that's unbelievably easy to prepare, and even easier to clean up (sounds nice after washing all those Thanksgiving dinner dishes, right?).
Salmon with Roasted Butternut Squash and Kale is Healthy and Hearty
If your family is anything like mine, leftover Thanksgiving rolls, pies and cookies may have found their way into more weekend meals and snacks than they should have.
This easy salmon one dish is the perfect way to get back on the healthy train!
It doesn't get much better for your than omega-3 rich wild salmon, beta-carotene loaded butternut squash, and cancer-fighting cruciferous vegetables! Plus, it's allergy friendly – grain free, gluten free, nut free, soy free, and easily adaptable for dairy free.
The roasted vegetables with fresh rosemary and sage are wonderful and satisfying enough to be a meal all by themselves, but the flaky salmon added a hearty finish that was both lovely and delicious! I prefer sockeye salmon which has a deeper red color, but this wild Alaskan salmon was the only variety available and did the job just fine (didn't hurt that it was on sale either!).
Easy Prep + Easy Cleanup = Happy Mom
Cooking healthy meals from scratch has a reputation for being labor intensive and cumbersome to clean up, but that isn't always the case.
Here are my tips for making this simple one-dish a cinch to make and clean:
• Buy pre-cubed squash (I got mine from Trader Joe's but I've also seen it at Costco)
• Buy pre-cut kale (again, TJs, but also at other local grocers)
• Have the workers behind the fish counter cut your salmon into 3 oz portions (this saves you time cutting them, and will speed up the cooking too!)
• Line your roasting pan with foil (I prefer a double layer). When dinner's over, simply discard the foil and return the pan to the cabinet.
Add to that list the fact that I served this dinner on paper plates with plastic utensils, and this was truly one of the easiest meals I've cleaned up after in a while! I actually love serving food on "real" dishes, and sitting down at a lovely table for a family meal. However, at holiday time, I take liberties and buy more foil, paper plates, and plastic utensils than any other time of year (#holidaysurvivalpack).
Cutting down on the dish washing gives me a little extra time for all that holiday shopping, party going, and memory making….and for occasionally whipping up a quick batch of homemade hot chocolate after dinner! No one complains, I assure you!
Easy Salmon with Roasted Butternut Squash and Kale
A fantastic winter one dish that's hearty, oh-so-healthy, and incredibly easy to prepare!
Ingredients
4

Tbsp

pastured ghee

divided (can substitute pastured lard for dairy free)

3

Cloves

fresh garlic

pressed

2

tsp

chopped sage

2

Tbsp

chopped rosemary

divided

1/2

tsp

sea salt

1/8

tsp

ground black pepper

2

pounds

butternut squash cubes

I used a little less due to the size of my roasting pan

5

oz

chopped kale

about 3 large handfuls

1

pound

wild Alaskan salmon

cut into 3 oz portions
Instructions
Preheat oven to 425 degrees. Line a roasting pan with foil.

Melt 3 Tbsp of the ghee in a glass bowl in the microwave. Stir in the garlic, sage, 1 Tbsp of the rosemary, and the salt and pepper.

Use clean hands to toss the melted ghee mixture with the butternut squash cubes on the foil lined roaster. Spread the cubes evenly to create a single layer in the pan. Roast for about 20 minutes, or until fork tender.

Remove from oven and turn the heat down to 375 degrees.

Gently toss the chopped kale with the roasted squash in the pan using a spatula. Spread the squash-kale mixture evenly across the pan, then lay the salmon pieces over the top (skin side down).

Melt the remaining 1 Tbsp ghee and use a pastry brush to brush over the surface of the salmon pieces. Sprinkle the fish with additional sea salt and black pepper, then with the remaining 1 Tbsp chopped rosemary.

Place in 375 degree oven for about 15 minutes, or until salmon is flaky and opaque in the center.
Recipe Notes
Some of the kale pieces will have a slight crisp around the edges when the dish is cooked (similar to kale chips). We love the texture contrast of the lightly crisped kale to the soft squash but, if you want your kale to soften, just add an extra tsp or two of melted ghee when you toss the kale and squash together.