Hashimoto's Thyroiditis symptoms, lab tests, and why every woman should get tested! Plus, 5 natural ways to live well with Hashimoto's!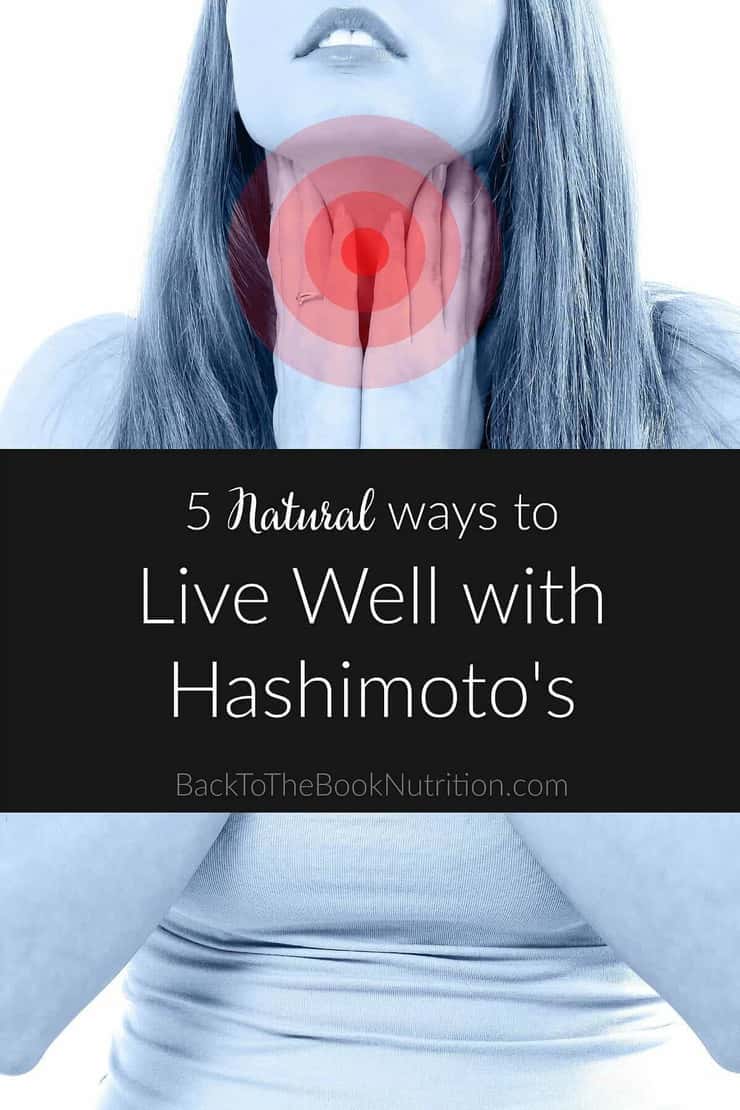 Note from Dena: This guest post was written by Sarah Fennewald, Dietetic Intern, as part of a research partnership between Back To The Book Nutrition and post-graduate nutrition students from the University of Houston.
---
Hashimoto's thyroiditis is the most common thyroid condition in the United States. In fact, it's estimated that the majority of those with hypothyroidism actually have Hashimoto's. Hashimoto's – or Hashi's – is an autoimmune condition that is ten times more likely to affect women than men. (1)
But what many Hashimoto's patients may not understand is that they don't have a problem with their thyroid as much as they have a problem with their immune system attacking their thyroid.
With an increase in autoimmune diseases and difficulty with diagnosing Hashimoto's, also known as Autoimmune Hypothyroidism, it is important to understand what it is and how it can affect your life.
To better understand Hashimoto's, and why it is a problem with the immune system and not the thyroid, we must first understand autoimmunity.
Rates of Autoimmune Disease
The frequency of autoimmune diseases has increased significantly over the past 30 years – this category of over 80 different diseases is now the number two cause of chronic illness and among the top ten causes of death for American women less than 65 years old. It is estimated that 50 million Americans now live with at least one autoimmune disease, and 75% of them are women. (1)
Sadly, having one autoimmune disease significantly increases the risk of receiving additional autoimmune diagnoses. (4)
What Causes Autoimmunity and Hashimoto's
According to Alessio Fasano, researcher and MD, every autoimmune disease has 3 basic causes:
Genetic Predisposition – autoimmunity does appear to run in families and some genetic links have been discovered
Environmental Trigger(s) – stress, Western diet, nutrient deficiencies, food additives, toxins, GI infections and overgrowths (i.e., H.pylori, SIBO, Candida overgrowth), medications, etc.
Leaky Gut – usually, this is the effect of chronic exposure to environmental triggers that damage the intestinal lining. This allows substances such as bacteria and undigested food proteins that should be eliminated from the body to be reabsorbed back into circulation. (7, 8, 9)
When all three of these factors are present and allowed to persist, the immune system goes into overdrive, wires can get crossed, and all of a sudden healthy body tissues can become the target of the attack by way of something called "molecular mimicry".
Molecular Mimicry – how gluten (and other proteins) can trigger an attack on the thyroid
If the gut is leaky, gluten and other protein particles can leak through the intestinal walls. Since these proteins shouldn't be present in that particular area of the body, they are viewed by the immune system as foreign invaders. The "troops" (Regulatory T cells and other immune cells) are signaled, and an attack is launched.
But parts of the gluten molecule (and certain other protein molecules) actually look similar to thyroid tissue and the immune system can confuse the two. The more often the immune system is called on to attack the gluten, the more likely this mix-up called "molecular mimicry" can occur, resulting in an attack on thyroid tissue instead.
This attack on healthy tissue is the start of autoimmunity.
What is Hashimoto's Thyroiditis?
As you can see, at its root, Hashimoto's is an immune dysfunction that results in thyroid dysfunction – it's imperative that we maintain focus on that root issue of immune/autoimmune activity if we want Hashimoto's naturally.
In Hashimoto's, the primary tissue that is attacked and possibly eventually destroyed by the immune system is the thyroid, which compromises metabolism, heart rate, and body temperature regulation. Related tissues like the pituitary gland (which produces TSH) and thyroid receptor cells on tissues throughout the body (think of these as a lock on the door of the cells – when thyroid hormone arrives at the cell, it acts as a key which fits perfectly into the lock to open the "door" of the cell and allow the thyroid hormone to enter and begin its work) can also be damaged by Hashimoto's.
Hashimoto's causes hypothyroidism (hypo= low or below normal), where the thyroid can't make enough thyroid hormone for the body's needs. The thyroid is responsible for producing mostly inactive thyroid hormone (T4), along with small amounts of active thyroid hormone (T3). Inactive T4 is converted to active T3 primarily by the liver.
To make matters worse, the attack on the pituitary can reduce signals to the thyroid to make more hormone, and the attack of thyroid receptors can reduce the effects of activated T3, so that even the small amount of T3 that is produced can't be used effectively.
How do I know if I have Hashimoto's?
When the body can't make enough of these hormones a variety of symptoms may occur. You may not even realize that some of the symptoms are caused by a disease, but they can have a huge impact on your life.
Symptoms of Hashimoto's Thyroiditis:
Weight gain
Cold sensitivity
Tingling in the hands and feet
Fatigue
Hair loss or dry hair
Difficulty concentrating or "brain fog"
Muscle weakness and joint pain
Puffy face
Constipation
Fertility issues
If you have these symptoms it is important to get checked for Hashimoto's right away. The longer it goes unchecked, the more damage can occur to your thyroid and related tissues.
Left untreated, Hashimoto's can lead to other health problems including an enlarged thyroid, heart problems, infertility, bone loss, and depression.
Lab Tests for Hashimoto's Thyroiditis:
To better understand your thyroid function and to determine whether you have Hashimoto's, your health care provider will should run a full thyroid panel including antibodies.
Unfortunately, it's very common for just one or a few of these to be performed, which gives an incomplete picture of thyroid health and/or autoimmune function, risking missed or mistaken diagnoses.
Thyroid-Stimulating Hormone (TSH) – Evaluates the pituitary's ability to signal the thyroid to produce thyroid hormone
Total Thyroxine (T4) – Measures he total amount of T4 (inactive thyroid hormone) produced by the thyroid gland
Free Thyroxine (T4) – Measures the amount of T4 available to the cells and tissues
Free Tri-iodothyronine (T3) – Measures the amount of T3 (active thyroid hormone) available to the cells and tissues once it has been converted from T4
Reverse T3 – Measures the non-functioning form of the active hormone T3
Thyroglobulin – Measures levels of the precursor to thyroid hormone that remains within the thyroid gland
Thyroxine-Binding Globulin (TBG) – Measures levels of the protein that transports thyroid hormone through the blood.
Antithyroglobulin antibody (ATA) – Often measured along with TPO, these antibodies can attack proteins involved in the production of thyroid hormones rendering them dysfunctional
Thyroid Peroxidase antibody (TPO) – Often measured along with ATA, these antibodies can attack proteins involved in the production of thyroid hormones rendering them dysfunctional
A small percentage of individuals have Hashimoto's but do not produce antibodies. In these or other cases where lab tests are inconclusive, a thyroid ultrasound may also be helpful to diagnose Hashimoto's. (15)
Conventional Medical Treatment for Hashimoto's
Synthetic Thyroid Hormone Medication
Western medicine routinely prescribes synthetic T4 thyroid hormone replacement (i.e., Synthroid, Levoxyl) for Hashimoto's patients. For many, this is a necessary component of treatment. However, it's important to remember that T4 medication has it's limits.
3 Things Synthroid Can't Do:
Assist with conversion of T4 into active thyroid hormone (T3)
Improve thyroid hormone binding and activity at receptor sites that may also be under attack
Address the root issue of autoiummunity
Thyroid Glandulars
Some medications (i.e., Armour Thyroid, Nature-Throid) are actually "glandulars", medications derived from thyroid tissue of a pig or other animal. These are natural rather than synthetic and have both T4 and T3 together in the same pill. For individuals with poor conversion of T4 to T3, these can be a great consideration.
Other Conventional Treatments
In advanced stages, radioactive iodine treatments or thyroid removal surgery are sometimes used. Unfortunately, even these drastic measures won't fully resolve the condition because they don't address the root issue of autoimmunity. (18)
Note: This post contains affiliate links. By making purchases through these links, you pay the same amount for products, but a small portion of the sale will be sent my way to help support the mission of Back To The Book Nutrition. Thank you!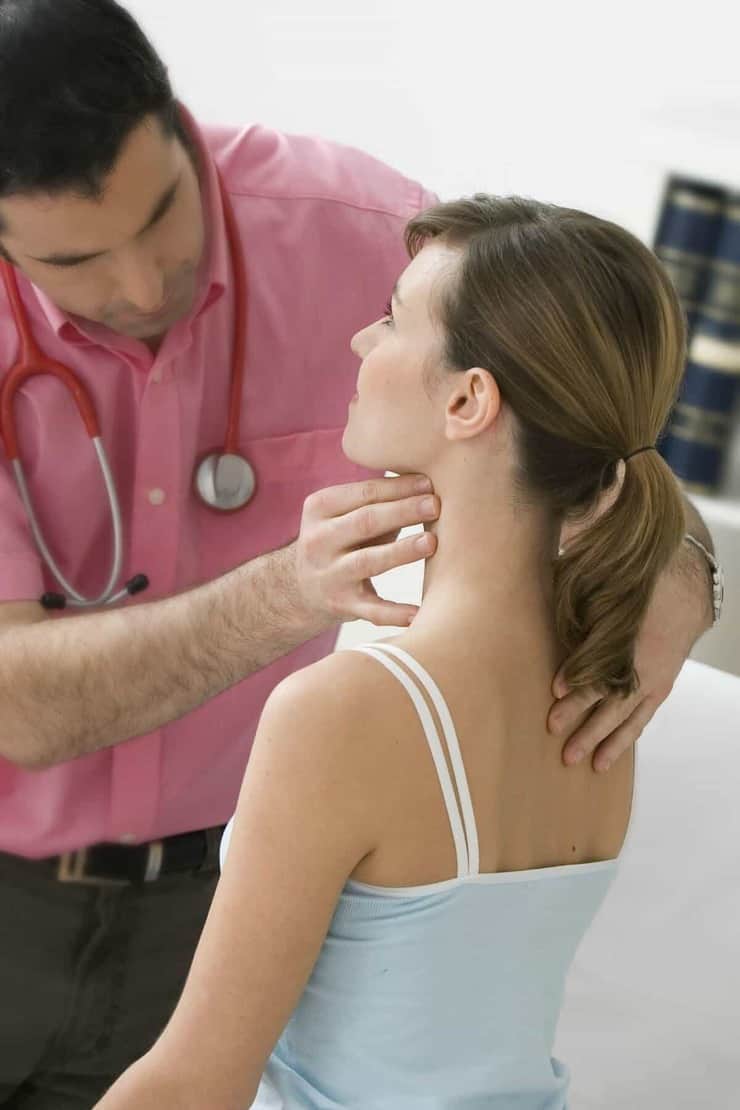 5 Natural Ways to Live Well with Hashimoto's
Remember, the ultimate aim when addressing Hashimoto's and other autoimmune diseases holistically is to restore balance to the immune system to stop the autoimmune attack on the body. It's unrealistic to expect an autoimmune condition to go away entirely, but it's very possible to use diet, exercise, and other lifestyle modifications to snuff out autoimmune activity in the body. Many women with Hashimoto's have achieved drastic reduction of thyroid antibodies and remission of their symptoms using this approach.
Here are five ways to naturally restore balance to your immune system and live well with Hashimoto's.
1. Identify and correct infections, nutrient deficiencies, and other toxicities
Consider working with myself or another holistic to test for gut infections and overgrowths, nutrient deficiencies, and other toxicities that may be contributing to autoimmunity.
2. Adopt a Gut Healing Diet
Until you have repaired your leaky gut, triggering exposures will continue to fuel autoimmunity. There are several diets that have helped many with Hashimoto's and other autoimmune conditions.
All of these involve a period of restricting common trigger foods such as gluten, dairy, and soy, as well as adding in gut-healing foods and supplements like meat stocks, bone broths (high in glutamine), wild caught fish, and fermented vegetables to help repair leaky gut and promote proper immune function.
Focus on Nutrients for Thyroid Health
Iodine – found in, seaweed, saltwater fish, pastured raised meat, eggs
Selenium – found in Brazil nuts, cod, shrimp, tuna, halibut, salmon, scallops, chicken, eggs
Iron – found in pasture raised meat and organ meats, fish and shellfish, spinach
B Vitamins – found in organ meats, pasture raised meat and eggs, mackerel, trout, and leafy greens
Vitamin D – Found in wild caught high fat fish, cod liver oil, and sunlight (6, 12, 13)
Note: Supplementation should be approached with caution as an excess of some nutrients can be harmful to your health. Speaking with a practitioner is advised before taking any supplements.
Optimize Immune Function
Individuals with an autoimmune disease have dysfunction of the regulatory T cells (sometimes called "T reg cells"), which are responsible for shutting off the immune response once it has finished its job.
In addition to eating a nutrient-dense, whole foods diet, the following can help optimize regulatory T cell function to reduce autoimmune activity:
Curcumin
Grapeseed extract
Green tea
Astragalus (4)
Discuss these and other beneficial supplements with a holistic practitioner.
Reduce Stress
It is important to manage stress as chronic stress causes inflammation and impairs thyroid function at many different levels. (17) Try the following to manage stress and get your body back in balance:
Work out – include cardiovascular, strengthening, and flexibility exercises. Remember, too much exercise can also be stressful to the body too!
Get enough sleep – aim for 7 to 9 hour a night (Take my 5 question Sleep Quiz, then learn how to sleep better naturally!)
Relaxation techniques – prayer, meditation, deep breathing, etc.
What to Do Next
If you suspect you may have Hashimoto's Thyroiditis, please arrange lab work through your doctor or through my Holistic Nutrition Coaching services to screen for thyroid antibodies. In my opinion every woman should be screened at least once every few years, or if they have a history of or recent symptoms of thyroid disease.
You CAN live well with Hashimoto's, but early detection and implementation of diet and lifestyle approaches for Hashimoto's (as well as other autoimmune conditions) are key for long term success!
---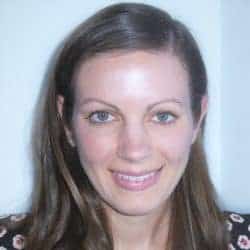 About the author: Sarah Fennewald is currently a Dietetic Intern at the University of Houston. She completed her B.S. in Dietetics at Fontbonne University in St. Louis, Missouri. Her goal is to use her nutrition knowledge to empower individuals to make real life changes that will improve their quality of life.
---
Disclaimer: Information on this site is intended only for informational purposes and is not a substitute for medical advice. Always consult with a trusted healthcare provider before implementing significant dietary change. Read additional disclaimer info here.

Sources:
Lerner, A., Jeremias, P., & Matthias, T. (2015). The world incidence and prevalence of autoimmune diseases is increasing. International Journal of Celiac Disease, 3(4), 151-155.
(deleted)
(deleted)
Somers, E. C., Thomas, S. L., Smeeth, L., & Hall, A. J. (2009). Are individuals with an autoimmune disease at higher risk of a second autoimmune disorder? American journal of epidemiology, 169(6), 749-755.
Manzel, A., Muller, D. N., Hafler, D. A., Erdman, S. E., Linker, R. A., & Kleinewietfeld, M. (2014). Role of "Western diet" in inflammatory autoimmune diseases. Current allergy and asthma reports, 14(1), 404.
Lerner, A., & Matthias, T. (2015). Changes in intestinal tight junction permeability associated with industrial food additives explain the rising incidence of autoimmune disease. Autoimmunity reviews, 14(6), 479-489.
Harris, C. (2012). Thyroid disease and diet- Nutrition plays a part in maintaining thyroid health. Today's Dietitian, 14(7), 40.
Wang, J., Lv, S., Chen, G., Gao, C., He, J., Zhong, H., & Xu, Y. (2015). Meta-analysis of the association between vitamin D and autoimmune thyroid disease. Nutrients, 7(4), 2485-2498.
(deleted)

Wentz, I. (2018).

4 Key Steps That Can Help You Diagnose Hashimoto's and Monitor Your Treatment Progress.