Do you suffer from pain and other symptoms of endometriosis? These specific diet, supplement, and lifestyle recommendations can help you better manage endo pain and inflammation, and help balance your hormones naturally.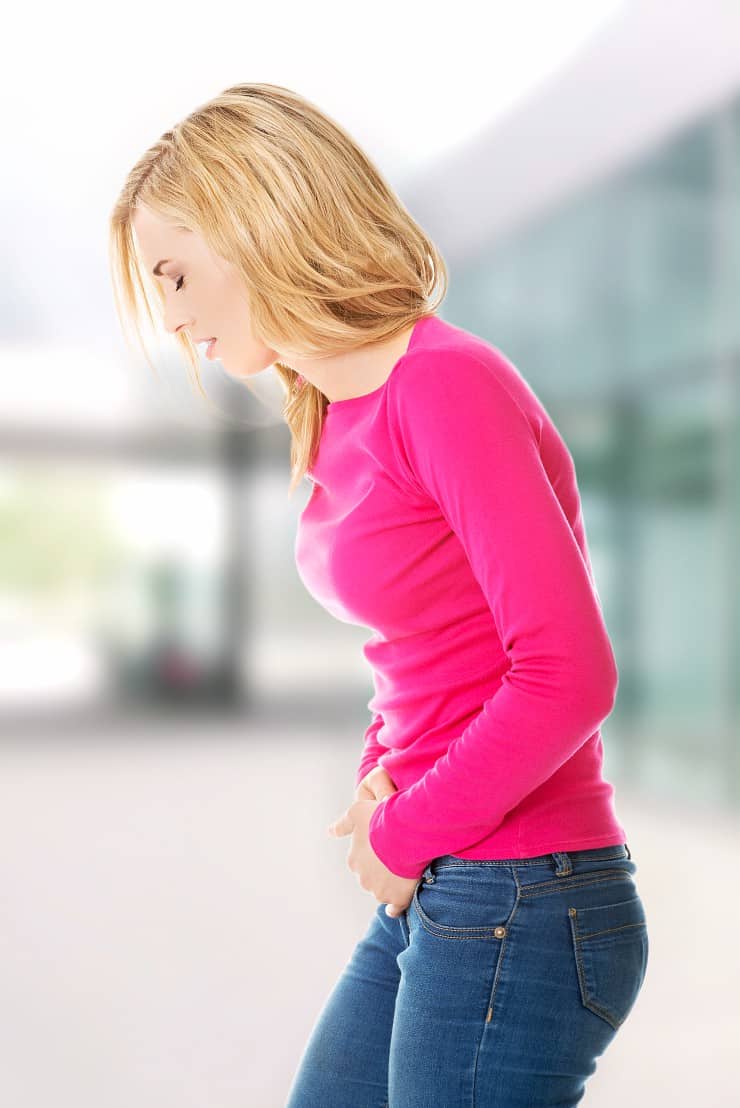 Note from Dena: This post was written by Karina Medina, Dietetic Intern, as part of a research partnership between Back To The Book Nutrition and post-graduate nutrition students from the University of Houston.
---
With over 200,000 cases per year, endometriosis has become a major subject of interest for research and more people are talking about it. What kind of disease is endometriosis? Who gets it? What symptoms should you look for? And most importantly, what natural approaches help overcome it?
WHAT IS ENDOMETRIOSIS?
Endometriosis is a common inflammatory condition that affects women during their reproductive life. It occurs when the endometrial tissue that lines up the interior of the uterus grows outside of it in places like the ovaries, the fallopian tubes or the abdominal organs.(6)
Adenomyosis, a sister condition to endometriosis, can occur separately or in conjunction with endometriosis. In adenomyosis, endometrial tissue grows inside the walls of the uterus. (11) This results from similar causes to endometriosis and benefits from similar natural approaches.
WHAT CAUSES IT?
Although we are not certain what the main cause is or how it develops, we can assume it is autoimmune and can confirm it is both inflammatory and estrogen dependent. (2) The latter is why conventional management of the disease almost always includes estrogen suppression or blockage with medications like birth control/oral contraceptives, Lupron, and others.
Normally estrogen is released by the ovaries and helps the lining of the uterus to thicken getting it ready for pregnancy. The idea is that by suppressing estrogen, we are stopping the lining that is on the outside of the uterus from thickening which then would shed leaving scar tissue and forming adhesions.
The problem with estrogen suppression is that it will not take the pain away completely and there are side effects that result from estrogen deficiency, including frequent UTI's (urinary tract infections), mood swings, breast tenderness, bone loss, headaches, fatigue, brain fog, ADD, and depression.(5)
The good news is, there are natural ways to address endometriosis that don't result in these side effects – keep reading!
WHO IS AT RISK?
Approximately 10-15% of women of reproductive age suffer from endometriosis. However, 30 to 40-year-old women have a higher chance of acquiring the disorder. Many cases go undiagnosed and, like many chronic conditions, this one lacks individual testing. For now, a laparoscopy is done if the disease is suspected. (6)
In her book, Period Repair Manual, Lara Briden Ph.D., mentions, "We know that infection or disruption of the vaginal microbiome seems to promote the development of endometriosis. Studies have shown that women with a history of pelvic infection are twice as likely to develop endometriosis."
Briden continues, "BUT the correlation with bacteria could be– at least in part– because of a bacterial toxin called lipopolysaccharide or LPS and the way it upsets the immune system… LPS is actually part of the wall of gram-negative bacteria such as E coli. And it reacts very strongly with the immune system. LPS is a common byproduct of unhealthy gut bacteria and is a known inducer of immune dysfunction and inflammation". (2)
This suggests women who suffer from this disease have this bacterial toxin in common – hopefully more study will be done on this connection in the future.
WHAT ARE THE MOST COMMON ENDOMETRIOSIS SYMPTOMS?
The symptoms of endometriosis are different from person to person. One of the many mysteries that surround endometriosis is how some women present very painful symptoms while others have no symptoms at all.
Common symptoms include:
Pelvic pain
Dysmenorrhea (painful periods)
Painful intercourse
Painful bowel movements
Pain during urination
Excessive bleeding during menstruation
Premenstrual spotting or bleeding between periods
Fatigue
Gastrointestinal problems
Lower back and abdominal pain
Infertility (4)
9 WAYS TO ADDRESS ENDOMETRIOSIS NATURALLY
Endometriosis is a chronic disease that has no medical cure. Fortunately, there are natural ways that help to reduce the inflammation and estrogen excess that are at its root to help relieve symptoms and improve quality of life for women who suffer from it. (1)
1. Anti-inflammatory Whole Foods Diet
Reducing or eliminating inflammatory foods and those that increase estrogen, as well as eating more of the foods that reduce inflammation (those high in omega-3 and other healthy fats, etc.) has proven to be an effective natural way to reduce the symptoms of endometriosis. (1)
Eat Fewer of These Foods:
Eat Fewer Inflammatory Foods:
Refined sugars
Refined carbohydrates
Processed foods
Gluten
Caffeine
Conventionally raised meats
Conventional dairy
Identified food sensitivities (this varies for each individual and can be identified either with an elimination diet or via food sensitivity testing)
Eat Fewer Foods that Increase Estrogen:
Alcohol
Processed soy products like soy protein isolate powder in some protein bars, protein powders, vegetarian meat alternatives, etc.
Dairy foods
Foods stored and/or heated in plastic due to BPA and other synthetic materials that mimic estrogen in the body
Eat More of These Foods:
Eat More Anti-inflammatory Foods:
Green leafy vegetables
Blueberries
Avocado
Coconut oil
Almonds
Wild salmon and other wild caught fish and seafood
Ginger
Turmeric
Eat More Foods that Detoxify and Reduce Estrogen:
Cruciferous vegetables like broccoli, cauliflower, cabbage, kale, Brussels sprouts, and others
Wild caught fish and seafood high in omega-3 fats
Include Foods Containing Iron if You Have Low Ferritin:
While low iron can occur with estrogen excess (which is related to endometriosis), women with endometriosis lesions can also develop iron overload. Have your provider check your ferritin levels to determine your iron levels and how much iron you should be eating.
Meats and poultry from animals raised on pasture
Liver and other organ meats
Wild caught fish
Eat More Foods High in Omega-3 Fats and Magnesium to Help Relax Muscles and Reduce Pain:
Wild salmon and other wild caught fish and seafood
Dark leafy greens
Almonds
Avocado
Pumpkin seeds
Phytoestrogens?:
It is still unclear whether phytoestrogens – foods that have a mild estrogen like effect in the body – are beneficial for endometriosis and other conditions of estrogen excess. (9) In some cases, the benefits may outweigh the risks – consult with your healthcare provider to determine whether you should consume phytoestrogen foods.
Soy
Flax
Resveratrol in red wine, red grapes, and peanuts
2. Supplements
Below are a few supplements commonly used in endometriosis. Always discuss supplements with your health care provider before taking as not all of these are right for every person with endo.
Zinc
Selenium
Fat soluble vitamins A, D, E, and K
Turmeric
High quality fish oil or cod liver oil
N-Acetyl L Cysteine (NAC) – an amino acid that the body converts into glutathione, a potent anti-oxidant
Diindolymethane (DIM) – a concentrated derivative of cruciferous vegetables that helps detoxify/reduce estrogen levels and has been shown protective against estrogen sensitive cancers
Pycnogenol – an extract from pine bark that can block estrogen (1, 3)
Bioidentical progesterone

3. Fix Your Gut
May factors in today's world contribute to poor gut health. Medications, chronic stress, and poor diet are all major causes of gut inflammation, poor nutrient absorption, constipation causing estrogen buildup, and the release of toxic proteins like the LPS discussed above into the blood, which can contribute to endometriosis and many other chronic conditions.
In addition, when some gut bacteria overgrow, they can produce excess levels of an enzyme called beta-glucuronidase, which recycles estrogen in the body, increasing the overall effects of estrogen.
Steps to improve gut health: (8)
Minimize medications that compromise gut health (antibiotics, antacids, proton pump inhibitors, birth control, and others)
Eat organic and non GMO foods (pesticides and antibiotics cause dysbiosis and leaky gut)
Eat mostly real, whole foods rather than refined foods
Add more prebiotic fiber from fruits, vegetables, nuts, and whole grains
Decrease sugar intake
Exercise, but don't overdo it
Avoid constipation
Consider working with a functional medicine or holistic practitioner to run a comprehensive stool panel to identify specific yeast or bacterial imbalances, parasites, other pathogens, leaky gut, and more.
---
Note from Dena:
I offer the GI MAP comprehensive stool test to my clients as part of a thorough, multilayered approach to improving gut and hormone health. To learn more about this, schedule a free call!
---
4. Balance Your Hormones
In most cases of endometriosis, there is a history of estrogen excess, whether due to the estrogen produced by the ovaries, or from medications containing synthetic estrogens like the birth control pill.
In addition to the basic steps outlined here, comprehensive hormone testing that shows estrogen and progesterone levels, as well as their metabolites (how their detoxified and eliminated from the body) can help immensely to determine where the problem lies and how to address it.
---
Note from Dena:
I offer DUTCH comprehensive hormone testing to clients to help assess and correct hormone imbalances. To learn more about this, schedule a free call!
---
5. Acupuncture
In recent years traditional Chinese acupuncture has spread around the world. A study from Tongji University compared the effects acupuncture vs. conventional medicine on pain reduction in fifty women with endometriosis. The acupuncture treatment group showed significant improvement pain scores, had smaller pelvic masses caused by endometriosis, and had lower levels of CA125 (a marker of the invasiveness of endometrial tissue).
Acupuncture appears to be a safe and effective way to lessen pain and reduce the recurrence of endometriosis. (8)
6. Castor Oil Packs
Castor oil is a potent natural anti-inflammatory that is easy to use, easy to obtain, and can be affordable too. A small towel soaked in this oil and placed on the lower abdomen or pelvic area for 10-30 minutes can help reduce the inflammation caused by the disease and therefore lower pain. (1)
7. Exercise
Moderate exercise such as walking or gentle stretching exercises helps reduce inflammation, promote hormone balance, regulate the immune system, improve blood circulation, and trigger endorphin secretion, which can naturally reduce pain. Remember that intense exercise can increase inflammation and place undue stress on the body, so more is not always better in this department! (1)
8. Stress Reduction
Stress creates a hormonal mess which only makes endometriosis worse. Taking even five minute breaks every hour or two can help release physical, mental, and emotional tensions. Other means of reducing stress could be as easy as listening to music, reading a book, or practicing deep-breathing exercises. (7)
Remember that your body perceives stress from many different sources that may or may not result in you "feeling stressed out", Stress also comes from hectic schedules, exciting life events, and a myriad of physical stressors like poor sleep, poor blood sugar control, gut imbalances, inflammation, and chronic infections.
DOWNLOAD MY FREE, 3-STEP GUIDE TO STRESS MANAGEMENT HERE!
9. Rest
It is normal that all these symptoms caused by endometriosis overwhelm you, and the pain can keep you from doing your day to day activities. However, you should allow your body to heal by resting enough. Be sure you're getting enough good quality sleep and getting naps on the weekend if needed.
Take this 5 Question Sleep Quality Quiz to find out if you're getting enough sleep, then follow these steps to sleep better naturally!
Next Steps to Help You Address Endometriosis Naturally
There are still so many questions we have about endometriosis that need answers. Hopefully this has given you first steps to follow. If you'd like a more personalized plan for diet, supplements, and functional medicine testing, Holistic Nutrition Coaching can help!
---
About the Author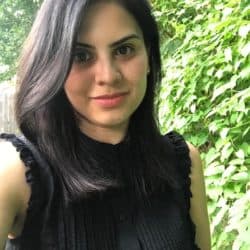 Karina Medina is originally from Mexico and completed her B.S. in Human Nutrition and Foods at the University of Houston, where she is currently completing her dietetic internship. She is passionate about nutrition and disease prevention and would like to specialize in Pediatric Nutrition to help new generations love and respect their bodies by living healthier lifestyles.
---
Disclaimer: Information on this site is intended only for informational purposes and is not a substitute for medical advice. Always consult with a trusted healthcare provider before implementing significant dietary change. Read additional disclaimer info here.
References
1.Axe, J. "Diet Changes That Can Halt Endometriosis Symptoms." https://draxe.com/endometriosis-symptoms/
2.Briden, L. (2017). "Endometriosis, Immune Dysfuction, and the Microbiome." https://www.larabriden.com/endometriosis-and-the-microbiome/
3.Brighten, J. "What Causes Endometriosis + 5 Steps to Heal Naturally" https://drbrighten.com/causes-endometriosis-5-natural-treatment-strategies/
4.Eunice Kennedy Shriver National Institute of Child and Human Development. "What are the Symptoms of Endometriosis." https://www.nichd.nih.gov/health/topics/endometri/conditioninfo/symptoms
5.Ginta, D. (2017). "What Are the Symptoms of Low Estrogen in Women and Are They Treated." Healthline Newsletter. https://www.healthline.com/health/womens-health/low-estrogen-symptoms
6.Kuktas, C. (2017). "Endometriosis". Sage Journals, 10(9). http://journals.sagepub.com/doi/abs/10.1177/1755738017716189?journalCode=inoa&
7. Patisaul, H.B. and Jefferson, W. (2010). "The Pros and Cons of Phytoestrogens". Front Neuroendocrinol, 31(4). https://www.ncbi.nlm.nih.gov/pmc/articles/PMC3074428/
8.Vital Health Endometriosis Center. "Unhealthy Gut, Unhealthy Body." https://www.vitalhealth.com/endo-blog/unhealthy-gut-unhealthy-body/
9.Wong, C. "7 Natural Treatments for Endometriosis." https://www.verywellhealth.com/natural-treatments-for-endometriosis-89275
10.Xu Y, Zhao W, Li T, Zhao Y, Bu H, Song S (2017) Effects of acupuncture for the treatment of endometriosis-related pain: A systematic review and meta-analysis. PLoS ONE 12(10): e0186616. https://doi.org/10.1371/journal.pone.0186616
11. Endometriosis Network Canada. "April is Adenomyosis Awareness Month: What it is, how it's different from endo, and why you should care." https://endometriosisnetwork.com/blog/april-is-adenomyosis-awareness-month