Healthy homemade orange soda! Only 4 all natural ingredients & naturally fermented for gut healthy probiotics! No corn syrup, flavors, or dye.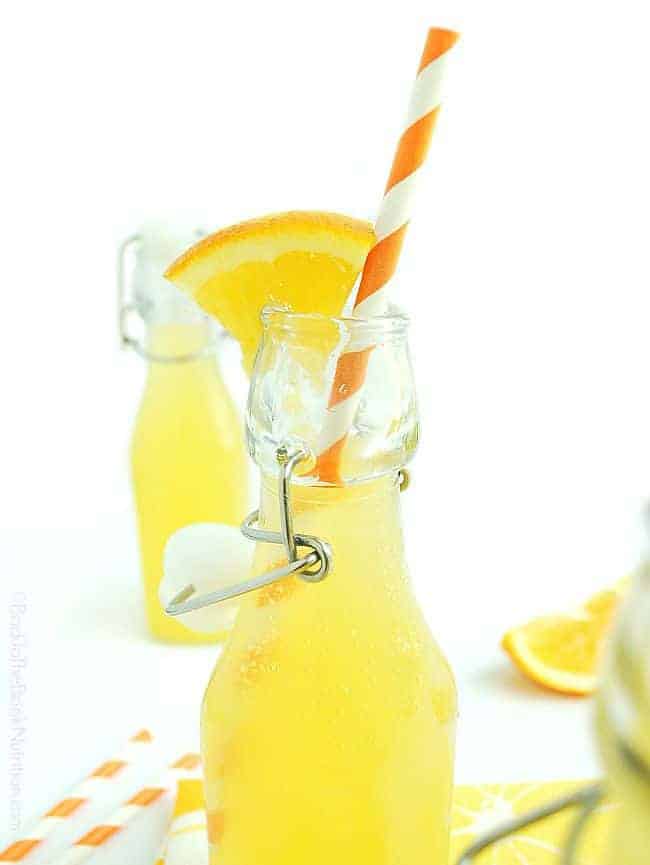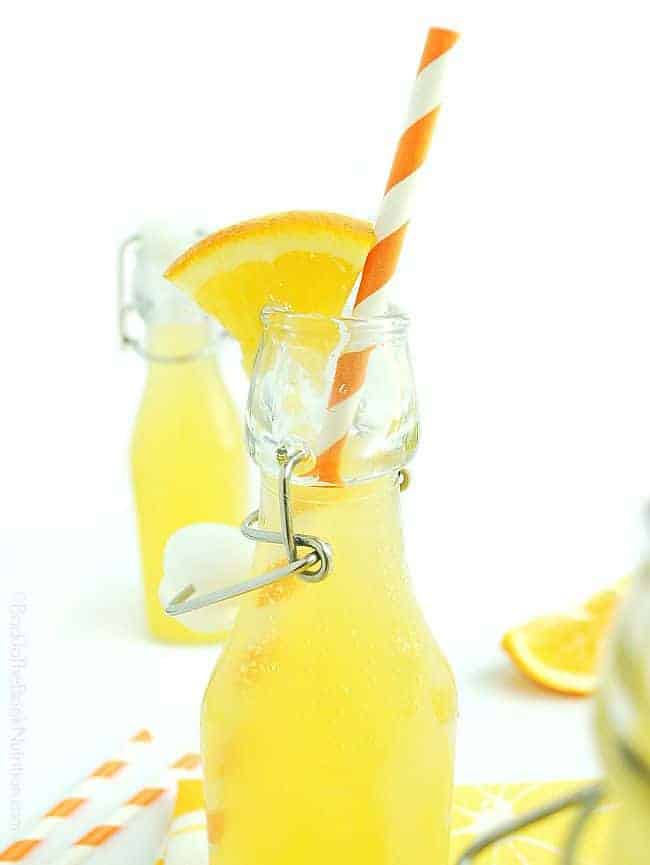 Yep, you read that right. Today we're making soda! But not just any soda – this light and refreshing probiotic orange soda is made from only 4 ingredients you probably already have on hand, and is a much healthier alternative to carbonated drinks from the store!
No corn syrup. No artificial flavors. No chemical dyes.
Just oranges, sugar, water, and whey.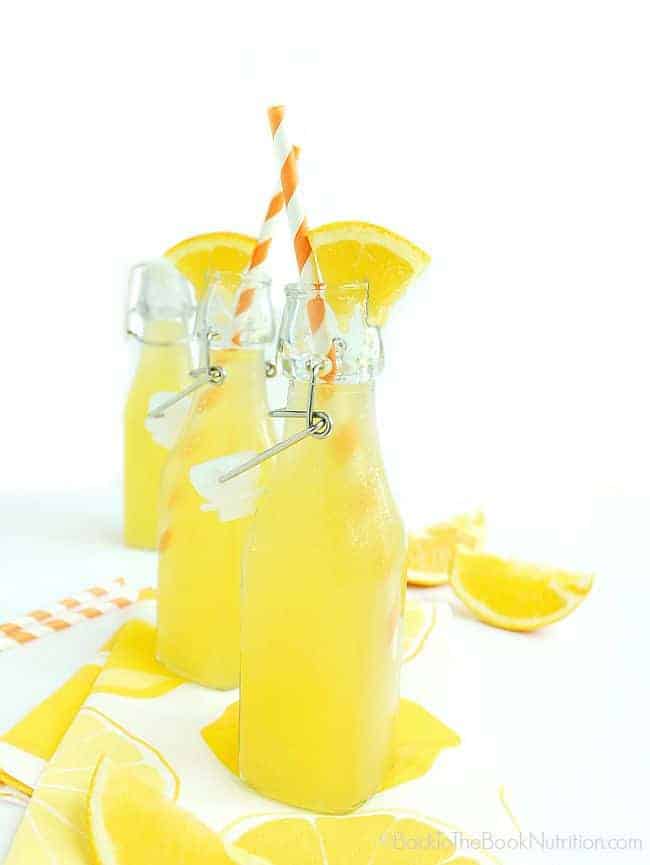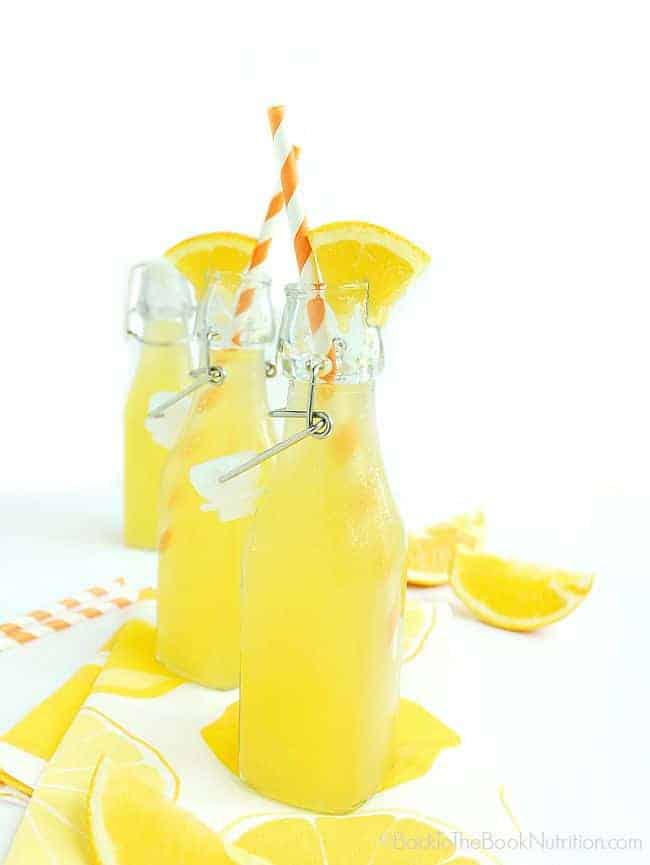 Homemade Probiotic Orange Soda
Fermentation is one of the hottest food trends of the past few years, and with good reason. Fermenting foods encourages growth of beneficial bacteria to help maintain a healthy gut, which research continues to prove is a critical piece to our immune function, weight management, mood, and overall health.
I've long been a believer in taking high quality probiotic supplements (exciting news coming soon!). But I've recently been working to increase our intake of fermented foods at home, including homemade sourdough bread and flavored kombucha.
So when I saw a recipe for naturally fermented strawberry soda on another real food blog I follow – Raising Generation Nourished – I knew we had to try it asap!
With no strawberries in the house, I opted for oranges and they were perfect! The mixture had a light, natural sweetness, with a refreshing citrus zing.
In a home where we never buy soda and only rarely drink fruit juice, this homemade soda was a treat-and-a-half!


Note: This post contains affiliate links. By making purchases through these links, you pay the same amount for products, but a portion of the sale will be sent my way to help with blog expenses. Thanks!
Easy Homemade Soda
Making this healthier version of orange soda is easier than you might think! Even if you've never fermented anything in your life, you can do this!
You just dissolve the sugar in some water, then add the orange juice and whey, and pour into swing top bottles.
The hardest part about the recipe is having to wait until it ferments to taste it!
It takes about a week on the counter, but you can speed up the process by placing them near a lamp with an incandescent bulb. Our house gets pretty chilly overnight, so I put a small, desktop lamp near the bottles before we went to bed.
I popped a bottle open once a day to take the tiniest little sip. You simply keep testing until you like the taste (the longer you ferment them, the more of the sugar the good bacteria will consume, increasing the probiotic count and decreasing the sweetness) then put them in the fridge for a few hours to chill before serving.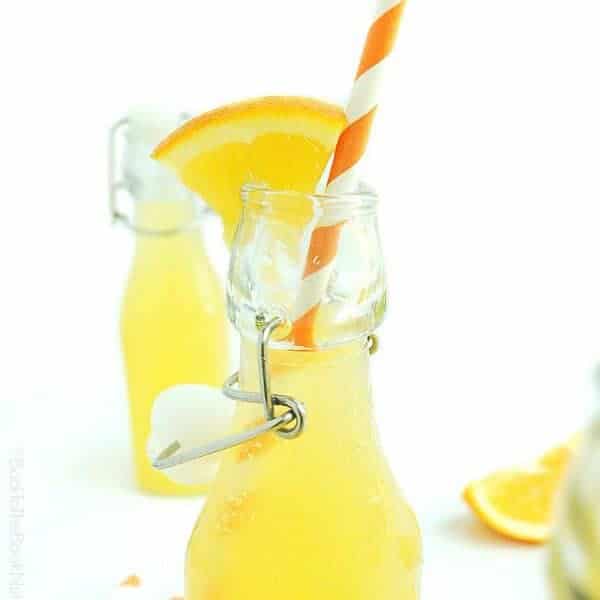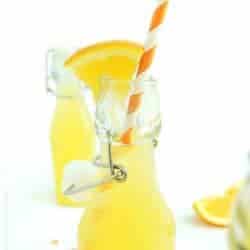 Probiotic Orange Soda
Light and refreshing probiotic orange soda is made from only 4 ingredients.

Print
Pin
Rate
Ingredients
Instructions
Place the sugar and about 3 cups of the water into a large pot and heat, stirring regularly, just until sugar dissolves. Remove from heat and add the remaining water and orange juice.

Add the whey, stirring to mix.

Use a funnel to pour into individual flip top bottles or bottle with screw top lids.

Allow to sit in a warm area for a few days, checking occasionally for flavor. We keep our home pretty cool overnight, so I found that placing a small desktop lamp near the bottles overnight sped up the fermentation process.

As soon as the sodas are fermented to your liking, transfer them to the fridge until ready to drink.
Try out these other refreshing drink recipes!